Mining Division Evening League
Following the retirement of Secretary /Treasurer Mike Evans after 43 years the competition was taken over by the Cornwall Cricket League in 2017.
The CCL commissioned the 'Michael Evans Trophy' to be annually presented to the Champions.
2022 Fixtures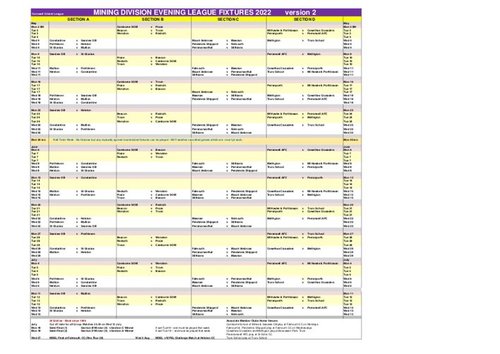 Click to view this PDF online
2021 Results
Due to Covid delays Camborne School of Mines were uable to compete in the semi-finals so place taken by runners-up Seaview Old Boys.
Semi-finals
Mount Hawke & Porthtowan beat Methigion
Mullion beat SeaView OB by four wickets
Mullion – SeaView Old Boys 101-9 (M Fisher 36no; M Bray 3-30) lost to
Mullion 105-6 (J Casley 29, M Cockings 24; R Whitbread 3-13) by four wickets with 15 balls to spare
Final
Wednesday 4 August at Helston CC
Mount Hawke & Porthtowan beat Mullion by three wickets
History
Mining Division Evening League
Champions Runners Up Final Venue
1965 Beacon
1966 Troon
1967 Four Lanes
1968 Plain-an-Gwarry
1969 Leedstown
1970 Hayle
1971
1972 Pool
1973 Leedstown
1974 Pool
1975 Leedstown
1976 Hayle
1977 Praze
1978 Holmans
1979 Barripper
1980 Pool
1981 South Crofty
1982 Pool
1983 Mt Hawke & Porthtowan
1984 Leedstown
1985 Pool
1986 Hayle
1987 Crofty
1988 Troon
1989 Helston
1990 Perranawell FC
1991 Hayle
1992 Helston
1993 Leedstown
1994 Goldsithney
1995 Perranporth
1996 Four Lanes
1997 Crofty Barripper Camborne
1998 Mt Hawke & Porthtowan Camborne Camborne
1999 Crofty Camborne SOM Camborne
2000 Mt Hawke & Porthtowan Penryn Camborne
2001 Mt Hawke & Porthtowan Praze Camborne
2002 Stithians Mt Hawke & Porthtowan Redruth
2003 Perranporth Stithians Redruth
2004 Mt Hawke & Porthtowan Redruth Camborne
2005 Chacewater Mt Hawke & Porthtowan Redruth
2006 Camborne Chacewater Camborne
2007 Troon Crofty Holman Camborne
2008 Helston Camborne SOM Mt Ambrose
2009 Helston Chacewater Camborne
2010 Stithians Helston Mt Ambrose
2011 Perranarworthal Crofty Holman Camborne
2012 Stithians Porthleven Mt Ambrose
2013 Helston Redruth Camborne
2014 Mt Hawke & Porthtowan Helston Redruth
2015 Mt Hawke & Porthtowan Redruth Beacon
2016 Stithians Wendron Camborne
2017 St Gluvias Mt Hawke & Porthtowan Camborne
2018 Helston Sea View Old Boys Helston
2019 Mt Ambrose Helston Helston
2020 No Competition – COVID-19
2021 Mt Hawke & Porthtowan Mullion Helston