Isaac Foot Cup
Facebook Homepage for Fixtures Results & Reports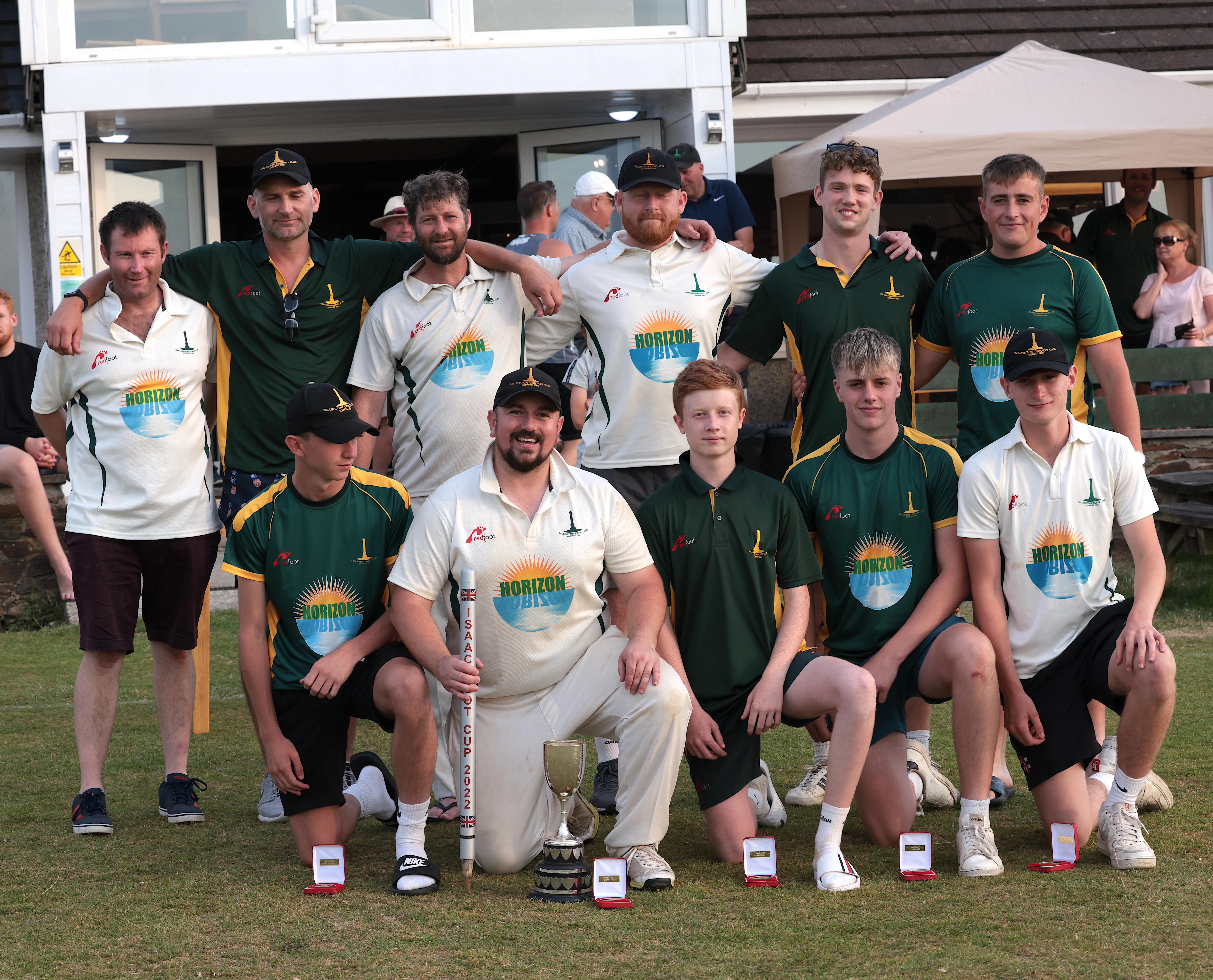 Isaac Foot Cup 2023
Second Round Draw
All Mondays - 18:00
June 5th - South Petherwin v Luckett
June 12th - Yelverton v Werington 2nds
June 19th - Cheesewring (+40) v Gunnislake (+40)
June 26th - Callington 2s v Callington 3s
Isaac Foot Cup 2022
Isaac Foot Cup Final Sunday 17 July 2022
Callington 3rds v Yelverton
Callington Skipper Toby Beresford-Power won the toss and elected to field first.
Ben Grove was bowled first ball of the innings by Owen Barnes and Skipper Rob Grove followed suit in the second over bowled by Blaze Eigenmann. John Malan steadied the innings and set about building a total. A partnership of 50 runs with Richard Townsend went a long way on a pitch that was proving, as it had all day, not to be the easiest. The Callington bowlers chipped away at the wickets and when Malan went down the track and missed a spinning delivery from Harvey Poad, wicketkeeper James Moon did the stumping, J Malan 48 (7x4). The remaining Yelverton batsmen took the score to 115 all out after 18.4 overs
Bowling figures - O Barnes 2.4-0-18-3, H Poad 3-09-2, B Allsop 4-0-18-2, T Morgan 3-0-24-2
Callingtons innings raced along for the first 4 overs with 33 coming from them. Then the runs dried up as the Yelverton bowlers and fielders applied pressure. After 10 overs the score was 50 for 3. Opening batsmen Chris Simpson started to hit out, hitting a six to take the score over a hundred, next ball tried to repeat the shot but was bowled by B Grove. Simpson 63 (2x6, 8x4). The score 104 for 5 after the 17th over and nerves in the Callington dressing room where on edge, another wicket fell immediately and Yelverton were back in with a shout but it was Beresford-Power who chipped the winning run over the fielder after 18.4 overs to win the Isaac Foot Cup 2022 for Callington 3rds
Bowling figures - M. Lemmings 5-0-22-3, B Grove 5-1-22-2
Callington 3rds beat Yelverton by 4 wickets
Umpires - P Voyzey & P Tancock
Scorers - S Ham & R Buddhika
2021 Competition Full Report on the Facebook page
Bridestowe v Callington 2nds
Callington won the toss and elected to field.
An early success for Ryan Brown that of T Burns trapped LBW in the first over. J Hatton and L Horn put on 74 for the next wicket which was broken when L Horn 24 (1x6, 2x4) ran passed a delivery from A Robinson and wicketkeeper J Blatchford stumped him. Three quick wickets for M Hunn saw the back of J Hatton for 50 (6x4) and two other batmen that didn't trouble the scorers and left the innings very much in the balance on 103-6 after 15 overs. Skipper D Fogerty didn't panic and marshalled the last five overs with the lower order to get to a competitive 137-7. D Fogerty 34no (1x6, 3x4) M Hunn 3-27, A Robinson 2-26
As in the first innings there was an LBW in the first over L Hunn hit in front by D Fogerty. Ryan Brown played an array of shots on his way to another Isaac Foot 50 but other than P Tancock 21 (2x4) couldn't find a willing partner and this was due to a telling over by T Pengelly who removed Tancock, J Blatchford and T May in the same over. Once Ryan Brown was caught for 53 (2x6, 4x4) in the 17th over with the score on 106. 32 runs still to get, it was down the to bowlers to try and get the winning runs but with deliveries running out and some sharp fielding 3 batsmen were dismissed via run out and Callington were all out on the final delivery for 128, 10 runs shy of the winning total.
A great game of cricket worthy of a final and a new name on the cup
Bridestowe win the Isaac Foot Cup 2021 by 9 runs
Man of the match T. Pengelly with 5 wickets. figures of 5-0-22-5
(as well as 4 wickets in the semi-final - he had a good day)
Umpires - S Ham & R Mutch
Scorers - T Beresford-Powers & C Jones
Bar & BBQ - L Brenton, B Hunn, J Poad and many others
Special mention to Isaac Foot Umpire P Voyzey who missed umpiring a game for the first time in 3 years but everyone needs a holiday - mines coming soon
and finally a BIG thank you to all the teams for taking part in this years cup and all the numerous guys and girls that help along the way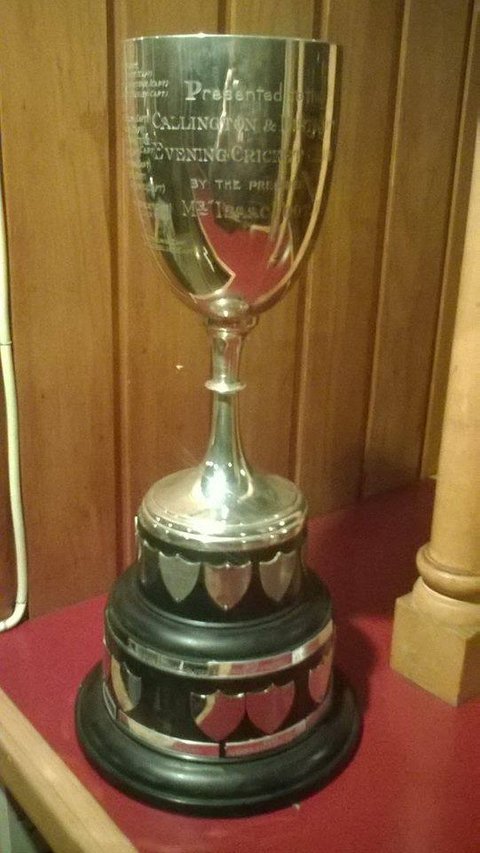 Presented by Rt. Hon. Isaac Foot, M.P. in 1928 (for competition by village teams in the Callington area).
All matches (20 overs) played at Callington C.C. New Road, Callington Tel: 01579 382647
2020 Yelverton beat Menheniot Looe
Finals Day 2019
First Semi Final
Luckett v Menheniot Looe.
Luckett score 174-4, L Brenton 74no, L Cole 34, A Hoskin 20. M James 2-45, T Rogers 2-26
Menheniot Looe score 174-6, C Coates 41, M James 38, P Nance 27, L Ripley 24. Rich Brown 3-36
Scores level, Luckett win by fewer wickets lost.
Second Semi Final
Boconnoc v Yelverton.
Yelverton 136 All Out S Colmer 31, R Townsend 20, R Greenslade 4-31, J Thurston 4-18
Boconnoc 100-9, J Niblett 47no. J Cooper 4-19, S Beare 2-17, R Townsend 2-15.
Yelverton win by 36 runs
Yelverton v Luckett
Yelverton win the toss and put Luckett into bat. From then on it was pretty much Luckett all the way. L Brenton continued is good form from the first game and scored 106 (3×6, 15×4), and was helped in amassing a large score by A. Hoskin 38no (1×6, 4×4), Rich Brown 29 (4×4) & L Cole 24 (1×6, 3×4) . Not too much joy for the bowlers when the batsmen score 239-5 but S Colmer 2-34 & R Dibble 2-36 got amongst the wickets.
The chase was always going to be a big ask. B Grove 32 (4×4), R Townsend 24 (5×4) S Beare 22no (2×4) tried but they couldn't match the big hitting of Luckett and finish the 20 overs 128 for 6. J Hoskin 3-28, A Hoskin 2-23.
Luckett win the Isaac Foot Cup 2019 by 111 runs
Luke Brenton wins Man of the Match Award and The Stan Bolitho Cup for Most Sixes in the final – 3
Finals Day on Sunday 1 July 2018 was postponed due to rain
Semi-Finals: Luckett 185 beat Werrington 3/4 140
Yelverton 175 beat Saltash Town 170
Final at Callington CC on Monday 9 July 2018
Final: Luckett 161-6 (M Brown 50no, L Brenton 31, R Brown 27, J Hoskin 19no; J Casey 2-22) lost to
Yelverton Bohemians 162-4 (H Robertson 76, S Beare 56no, S Colmer 21no, M Southcott 2-27) 6 wkts..
Most sixes in the final (Stan Bolitho Cup) 4 – Hamish Robertson
Man of the Match – Simon Beare (Yelverton Bohemians).
Finals Day at Callington CC on Sunday 25 June 2017
Semi-Finals: Luckett 118 (A Brenton 32, A Hoskin 31; T Rogers 3-21, H Rogers 3-30, D Goldsmith 2-29) beat Menheniot/Looe 116-8 (L Ripley 32, R Ripley 29; M Southcott 3-14, A Brenton 2-17, J Hoskin 2-27) by two runs.
Bridestowe 161-7 (C Lavis 38, G Sizmur 29, B Horn 24no, R Palmer 23, J Barkwell 20; C Simpson 2-28) lost to Saltash 162-2 (N Carpenter 52, B Eigenmann 41no, C Simpson 28; G Sizmur 2-25) by eight wickets.
Final: Luckett 169-8 (A Brenton 63, M Brown 44; D Bolland 3-24, R Braund 2-22, C Simpson 2-41) beat
Saltash 143-5 (C Simpson 66, J Trembath 20no, N Carpenter 20, M Southcott 2-37) by 26 runs.
Most sixes in the final (Stan Bolitho Cup) 3 – Andrew Brenton and Mark Brown.
Man of the Match – Mark Brown (Luckett).
Finals Day at Callington CC on Sunday 10 July 2016
Semi Finals: Menheniot Looe 123-9 (M. James 24; S Pengelly 4-28) lost to
Launceston 124-1 (J Hake 51no, R. Mutch 48) by nine wickets.
St Neot 108-5 (D. Lockett 34no, C Trapmore 20; L Ashton 2-28) lost to
Lanhydrock 109-5 (R Butler 50no, D Lockett 2-20) by five wickets.
Final : Launceston 149-8 (K Worth 32, S Pengelly 31, R Christophers 27; J Harris 2-18, T Trethewey 2-25) Lanhydrock 137-4 (J Carter 50no, B Attfield 25, S Benney 24; R Crabb 2-39)
Launceston won by 12 runs.
Man of the Match Joe White (Callington) Stan Bolitho Cup Most 6's in Final R Christophers (3).