O50/60s/70s
2023 AGM
This took place on Sunday October 29th at the Victoria Inn at Roche. The minutes are here:

2023 AGM Minutes.pdf 1
Note there is a vacancy for an O50s 2nd XI Team Manager. Interested parties should contact the new Head of O50s Spencer Ham.
We are also keen on having someone head up fundraising including sponsorship. If this is you please contact new Chair Bob Fleming
2024 Fees and Expenses - These were agreed at the AGM and are here:

2024 Fees & Expenses .pdf
End of Season Awards Evening
This took place on Friday October 20th at the Seiners Hotel in Perranporth - details of the winners here:

Award Winners 2023.pdf
49+ and keen to play county cricket?
Then get in touch!
In 2024 we will be running five county championship teams and a friendly team plus some O70s fixtures - details below
You do need to become an O50s/60s member to be selected for any of our championship teams and pay the £25 membership fee. 2024 membership form will appear here soon.
Our 50+ 1st XI team represents Cornwall in a national competition which features the very best O50s players across England and Wales including several ex-county pros and internationals. Matches are usually played on Wednesdays.
Our 50+ 2nd XI team takes part in an equally competitive 2nd XI championship. (formerly known as the Southern Counties or SCC). Matches will be played on Wednesdays in 2024. We can play two 49 year old 'youngsters' in any match providing they are 49 on May 1st 2024.
Our 50+ 3rd XI team - 2024 will be our second season taking part in an extended O50s 3rd XI championship. Games are likely to be on Wednesdays.
1st and 2nd XI O60s team. Both will play in the National Over 60s championship enjoying matches virtually every Tuesday from the beginning of May. We can play one 59 year old 'youngster' in any championship match.
O70s - Plans are in progress to develop an O70s team. If interested please contact Paul Dawkins - details on the contacts page
The friendlies team run by Paul Higgins enjoys a full range of fixtures against a variety of teams with a real mix of dates and formats – including matches that can end in draws! Click here for the Friendlies team page
If you've reached the stage of your cricket career where you need a new challenge in a competitive but fun environment and you have the flexibility to play midweek then the O50s / 60s is the place for you. Follow this link to our contacts page - which details team captains, managers etc
Your best cricketing years could still be ahead of you!
Who can play for which team?
The various competitions we play in have slightly varying rules about who is eligible to play so here's a summary as applies to the 2023 season:

O50s
For the O50s 1st XI you have to be at least 50 on the day of the match, regardless on when your birthday is. So if you are 50 on July 17th you can play from then. Players who play 4 of the 7 group matches cannot then play for the 2nd XI in knockout stage matches. Players who have played 3 1st XI matches can not play in any 3rd XI games.
The O50s 2nd XI can include two players who are 49 on the day of the match providing they were 49 on or before May 1st 2023. Players cannot play for the 1st and 2nd XI in the same week (Monday to Sunday). There is no restriction on the amount of matches a player plays for the 2nd XI that prevents them playing for the 1st XI. Counties are not expected to use the 2nd XI competition to give 1st XI regular players additional games.

The O50s 3rd XI can include two players who are 49 on the day of the match providing they were 49 on or before May 1st 2023. Players cannot play for the 1st and 3rd XI in the same week (Monday to Sunday).
Counties are not expected to use the 3rd XI competition to give 1st XI or 2nd XI regular players additional games.
Only players who have played in 5 or more group matches can play in the knockout stages.

O60s
For 2024 all players will need to be 60 on the day of the match.
Female players aged 50+ are allowed.
Players who have played 6 or more 1st XI matches in a season cannot play for the 2nd XI in the same season without permission from the compeetition organisers. Players cannot play for the 1st and 2nd XI in the same week.
You can buy O50/60s match and training kit here Just make sure you tick the relevant filters (O50s or O60s - not Mens Team) on the left hand side to get to the right gear – anything with Rick Stein or any other sponsor logo on it is not ours! There is no obligation for you to buy team clothing.
End of Season stats for 2023:
Appearances:
Anton Luiten 24
Hugh Rogers 15
Sid Lawrence 15
Trevor Lee 15
Runs:
Anton Luiten 713
Hugh Rogers 606
Martyn Bevins 450
Jim Maunder 345
Wickets:
Mark Southcott 18
Johnny Smeaden 18
Kevin Horrell 17
Hugh Rogers 17
O50s 3rd XI v Gloucestershire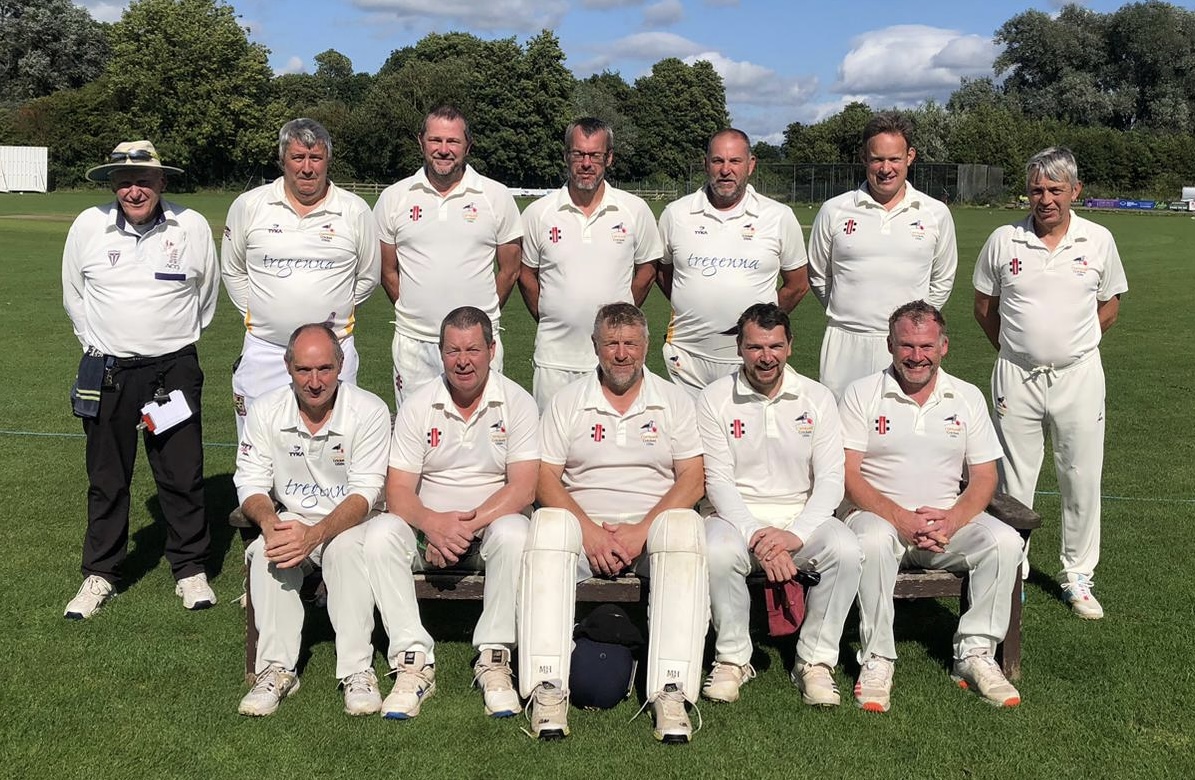 O60s 1st XI v Cheshire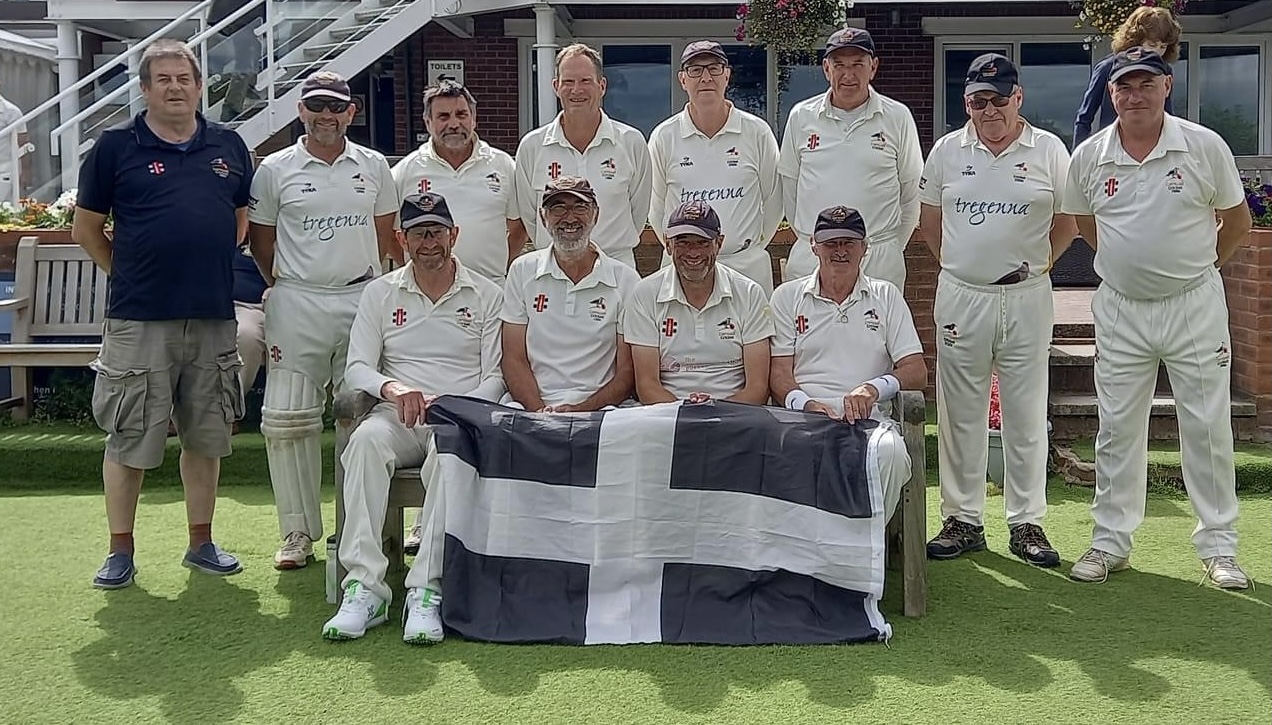 O50s 2nd XI v Berkshire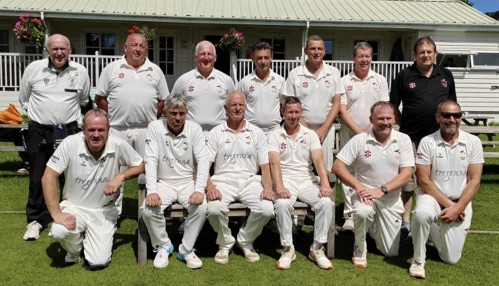 Check the individual team pages in the menu for results, fixtures, stats, photos etc....
Handbook 2023
Bob Fleming has done a tremendous job pulling together with the help of a small team the first ever Cornwall O50s/60s/70s handbook which is now available. 3 copies have been sent to each cricket club in Cornwall but we have 1000 copies in all to distribute so would like each O50-60 club member to take at least 5 copies to distribute to friends, family, neighbours, etc. The main purpose of handing out copies is to interest people in Cornwall O50s/60s/70s and hopefully attract a few more players to join us in one of the 6 teams we now operate. The team captains will have supplies available at the matches so please take as many as you can use. Any make sure the opposition all have one as well!

There is a £2 cover price on it, but this is just for a few occasions where they might end up being sold, so no expectation that we should be collecting any money from friends etc. Here's the PDF version:

Cornwall_Cricket_O50sO60s_Yearbook.pdf
Adrian Warne reaches 50 appearances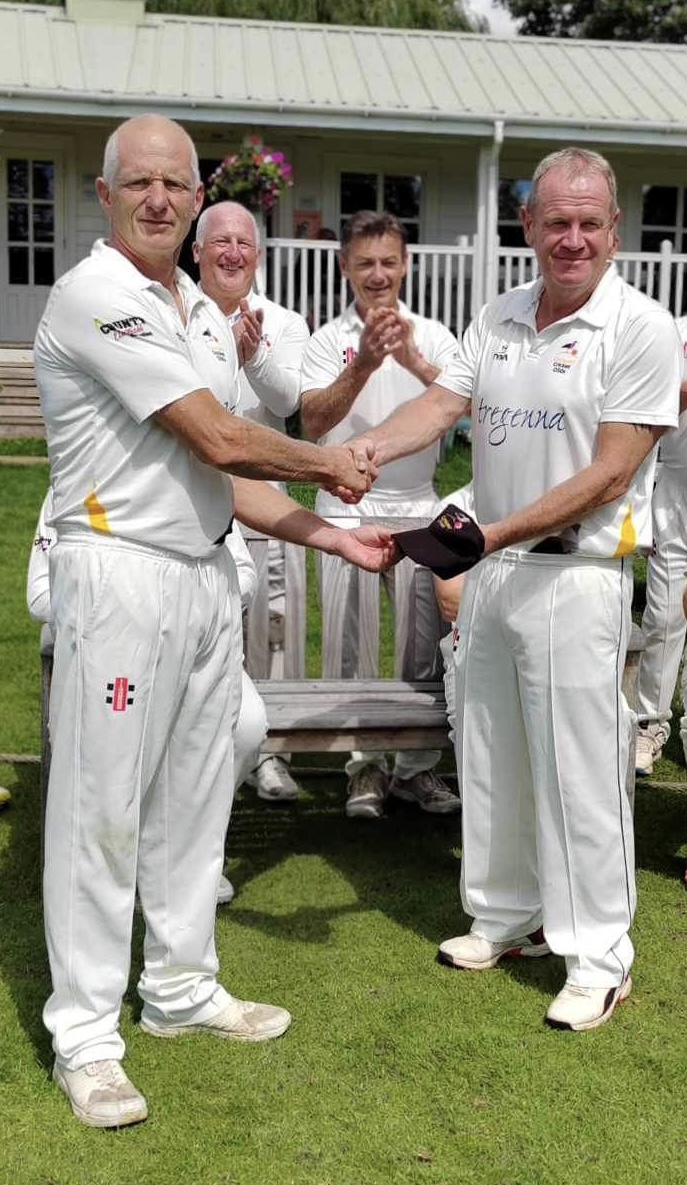 Anton Luiten reaches 4000 runs
Anton became the first player to reach 4000 runs across all our championship teams and it was fitting that he should reach the landmark on his home ground at Tideford. Anton is just as keen and enthusiast today as he was when he made his debut in 2010. Breakdown of his runs - as at June 8th 2023 - :
O50s 1st XI - 1483
O50s 2nd XI - 1281
O60s 1st XI - 1250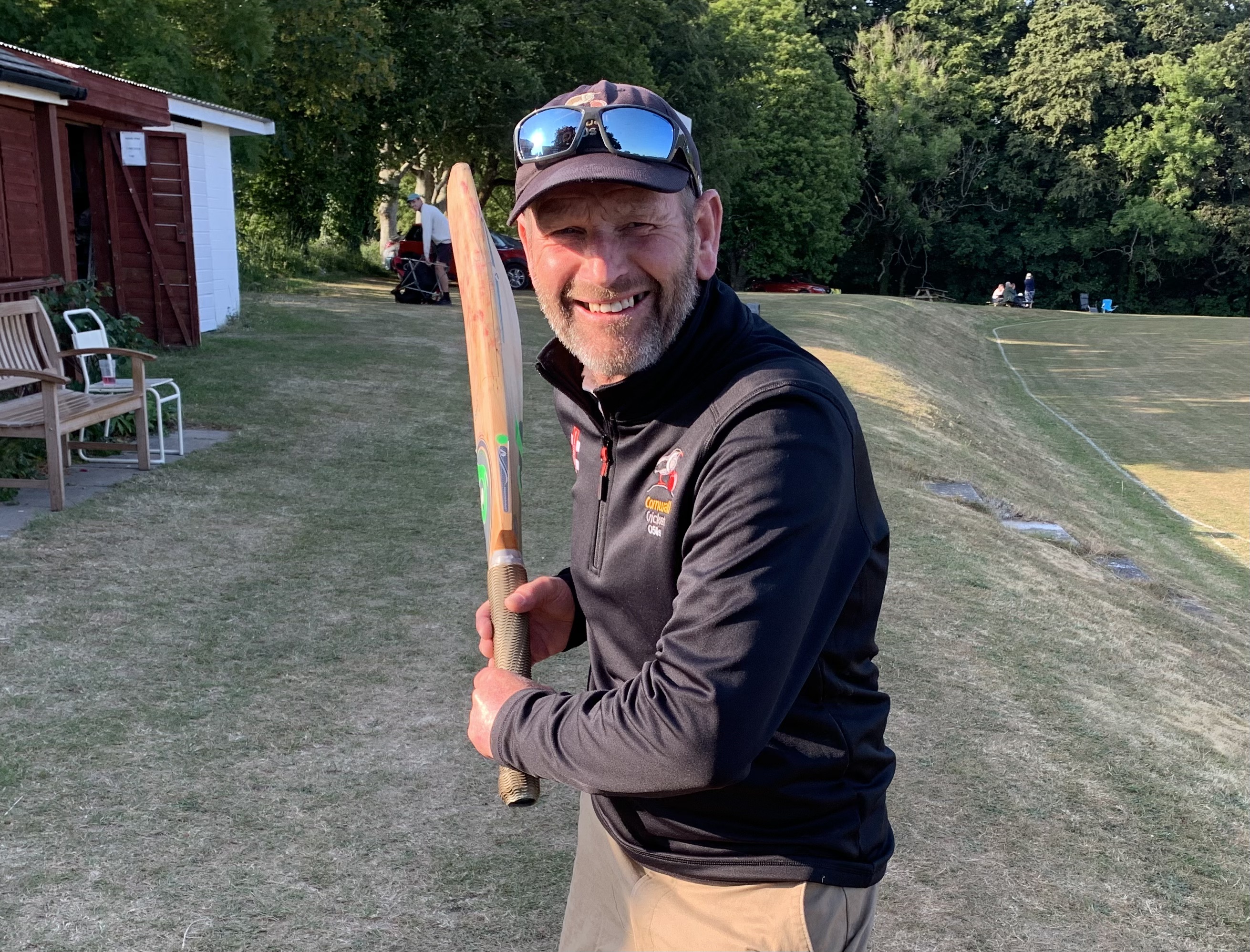 Paul Clements became the 11th player since the O50s 1st XI started in 1984 to reach 50 'caps'. Clemo played his first match in 2015 and is the team's leading all time wicket taker and was captain between 2018 and 2021.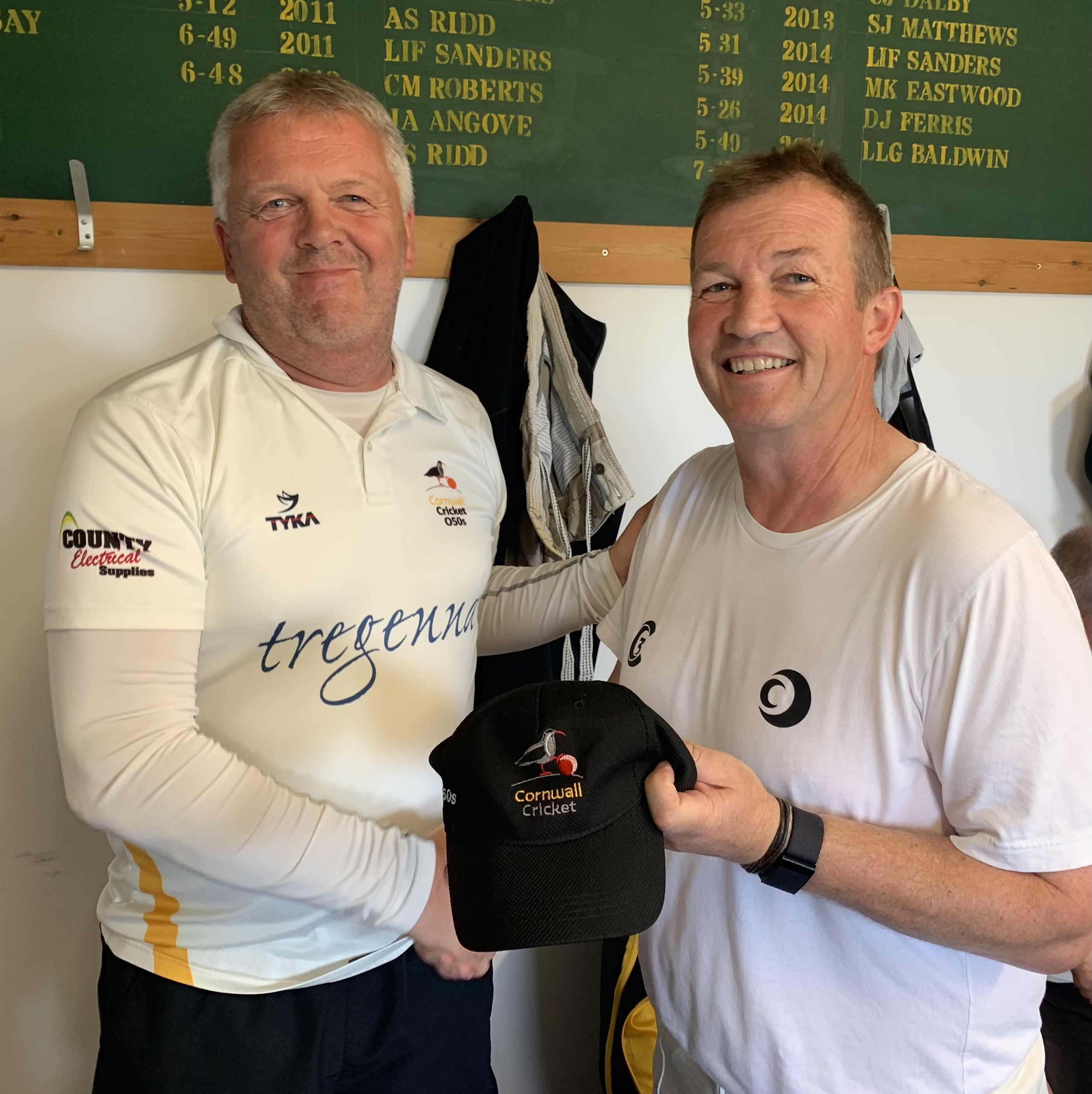 O70s - First ever match! - v Somerset 26.04.23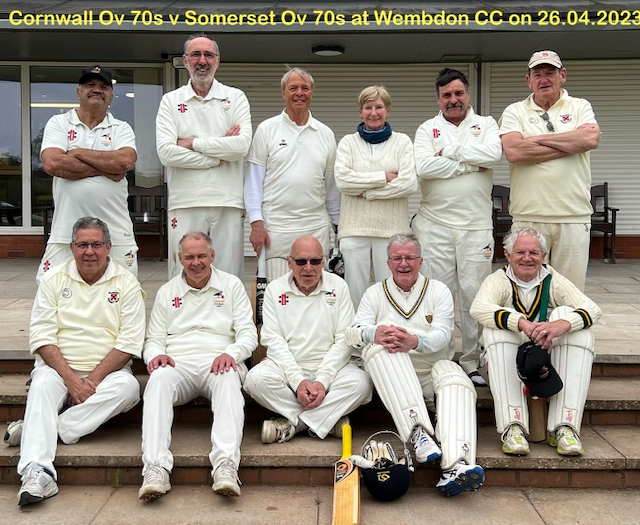 O60s 2nd XI v Wales 25.04.23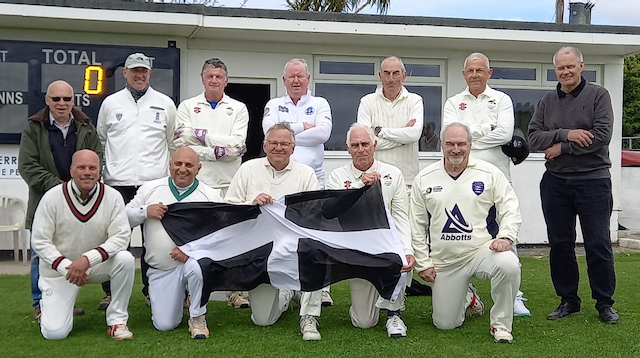 Bob Fleming is awarded the Geoff Husband Trophy for 2023
The Trophy is awarded each year to someone who makes an outstanding contribution to the Cornwall O50s/60s. In 2023 Bob captained the O60s 1st XI, organised a tour to Corfu, raised money via a Win A Bat competition and publsihed the first ever O50s/0s handbook. Pictured is Bob receiving the Trophy from Pauline Husband at Gunnislake CC where Geoff played most of his cricket at the end of his career.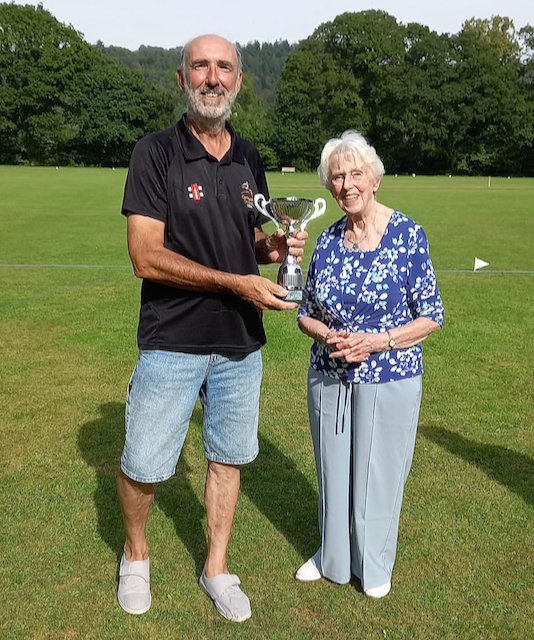 Paul Higgins is awarded the Geoff Husband Trophy for 2022
The Trophy is awarded each year to someone who makes an outstanding contribution to the Cornwall O50s/60s. Paul has the tough task of organising the O50s friendlies team and has also helped out the O60s 2nd XI in various roles. Pictured is Paul receiving the Trophy from Pauline Husband at Gunnislake CC where Geoff played most of his cricket at the end of his career.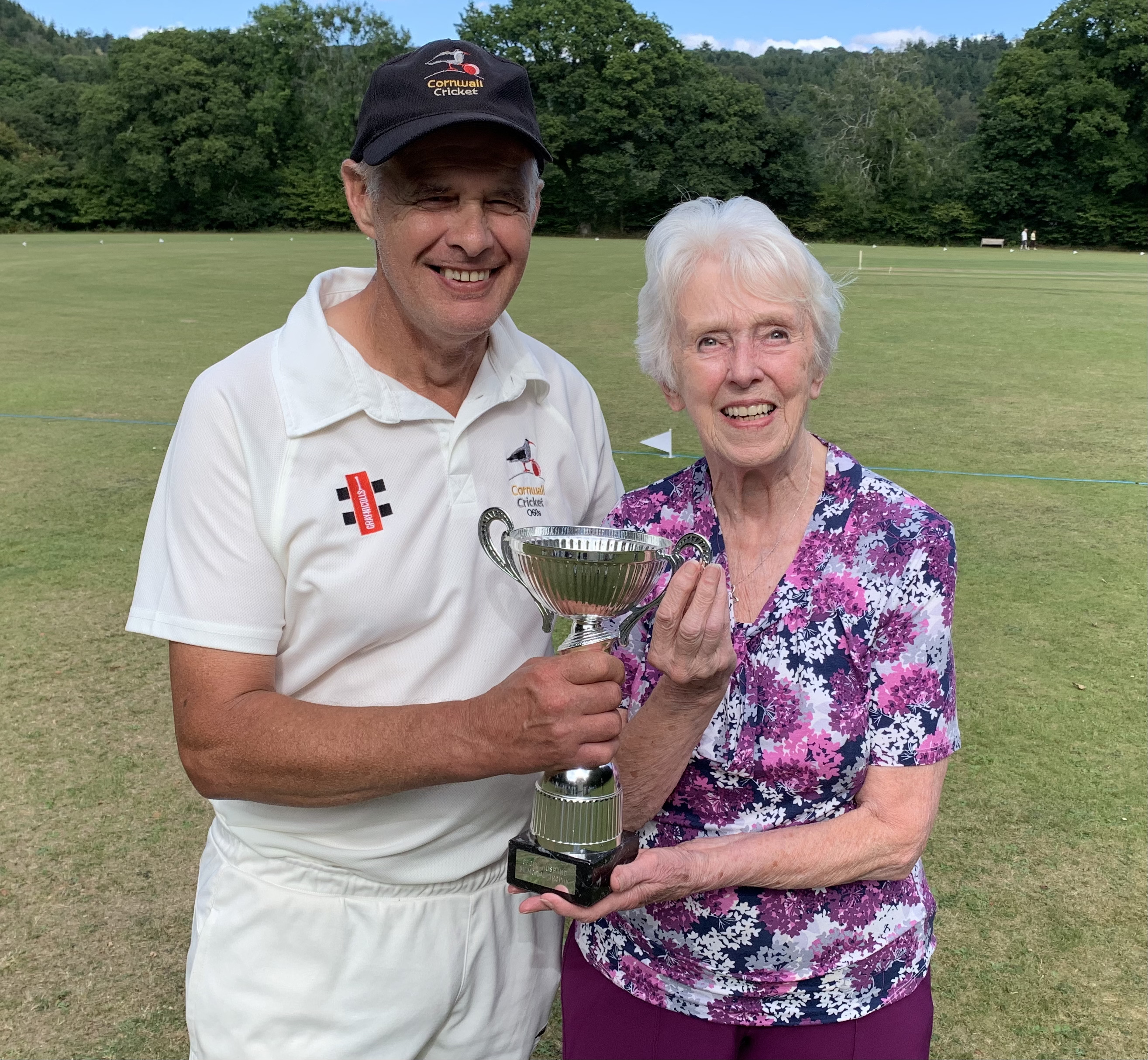 O50s 2nd XI beaten in Final
In a high scoring match we were beaten by Surrey at Trowbridge CC (Wiltshire) in the final of the O50s 2nd XI competition on Friday September 2nd. Chasing 305 the boys recovered from 15-3 to be in with a shout but ended on 251 all out. Scorecard here.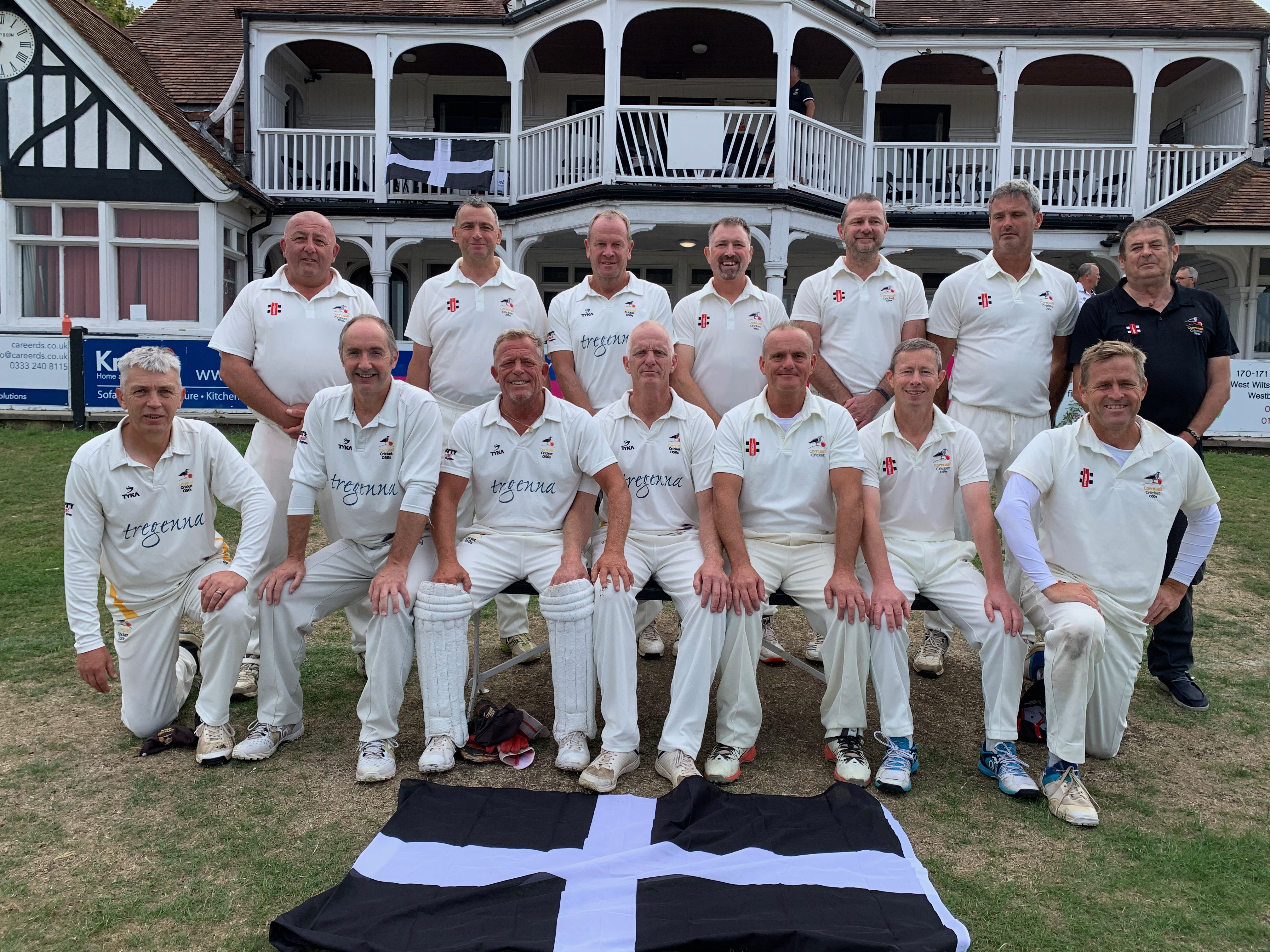 Defibrillators:
We're all aware of how vital a defibrillator can be in saving a life.
With that in mind the management team of the Cornwall O50s/60s have purchased four defibrillators so that each one of our four championship teams has one with them at every game. We will be shortly acquiring a 5th one for our O50s 3rd XI.
Anton Luiten breaks Geoff Husband appearances record
Anton Luiten played his 109th championship game for Cornwall O50s/60s in the O50s 2nd XI match at Perranporth on June 1st surpassing the late Geoff Husband's record of 108. Geoff played 88 games for the O50s and 20 games for the O60s. Anton has played 55 matches for the O50s 1st XI, 29 for the O50s 2nd XI and 25 for the O60s 1st XI since he made his debut on June 6th v Hampshire at Truro - in which he top scored with 73 before being run out. Photo shows O50s 2nd XI captain Johnny Smeaden congratulating Anton.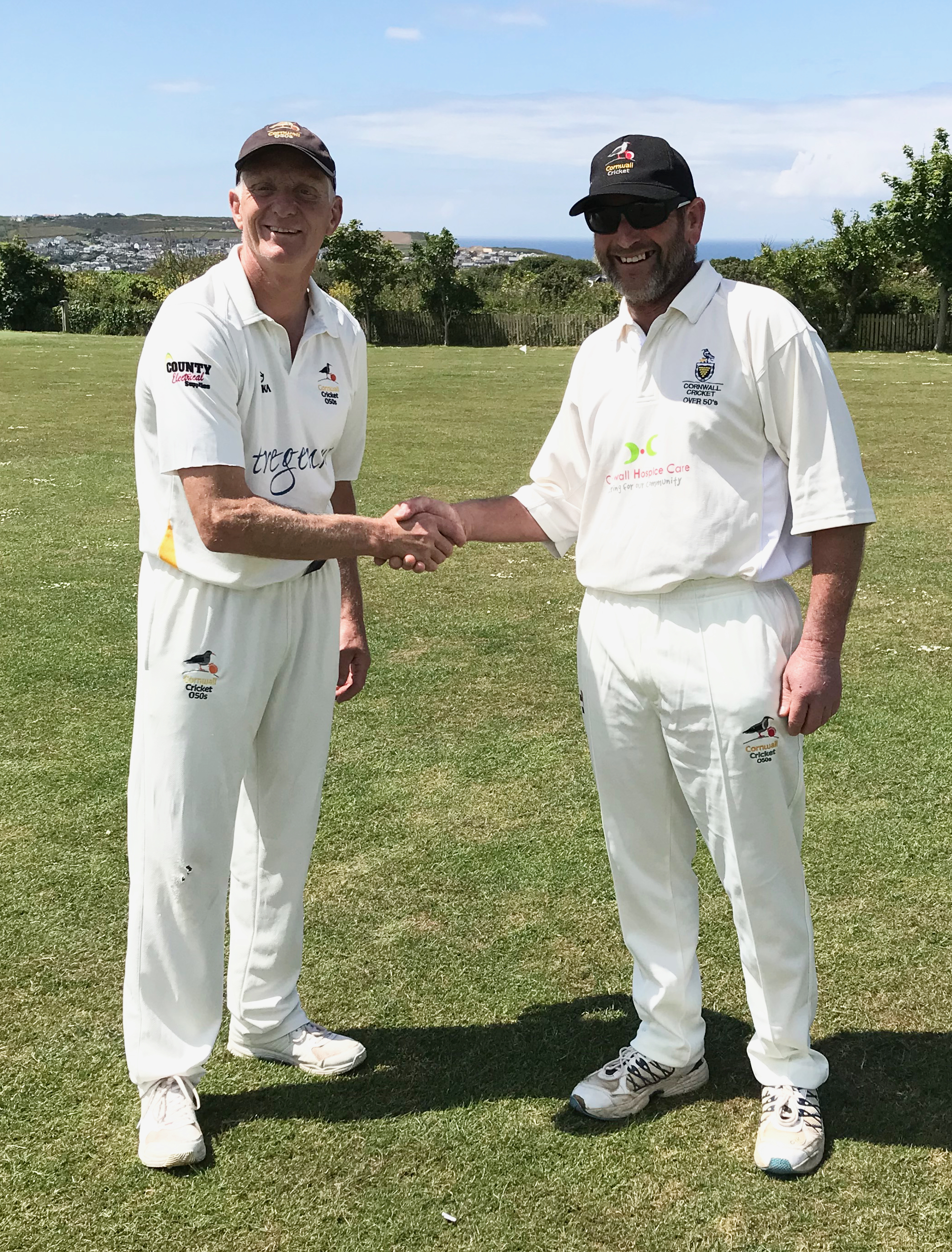 Jon and Anton in England Trials
Congratulations to Jon Nance and Anton Luiten who have been called up for England trials in June. Between them they have represented Cornwall at O50/60 level almost 200 times. Enjoy the matches guys and good luck!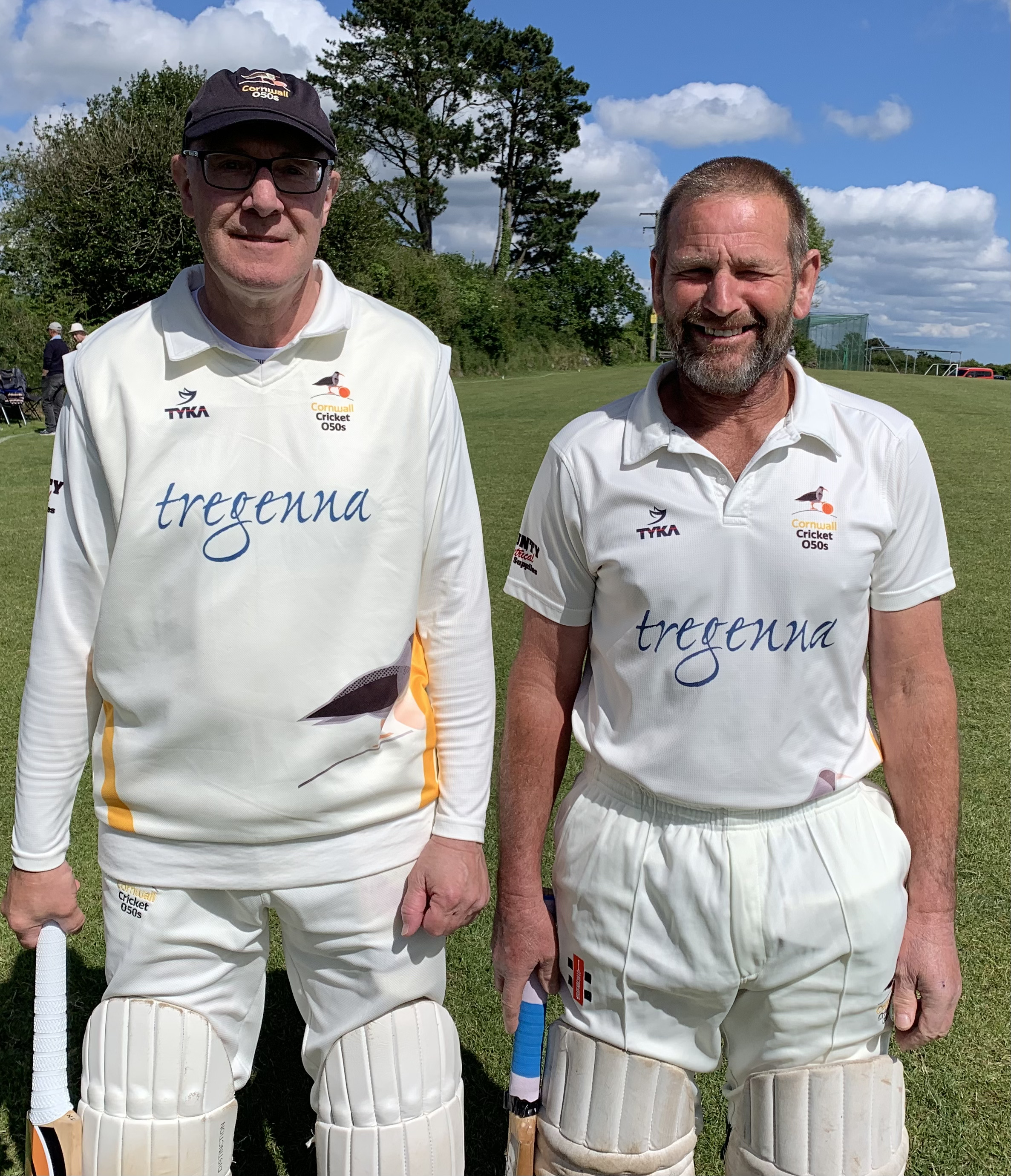 Geoff Husband Memorial Match: Despite indifferent weather a Gunnislake XI played a Cornwall O50s/60s XI at Callington on Sunday September 26th. During the tea interval Pauline Husband presented the Geoff Husband Memorial Trophy to its first recipient O60s team manager Chris Dennis.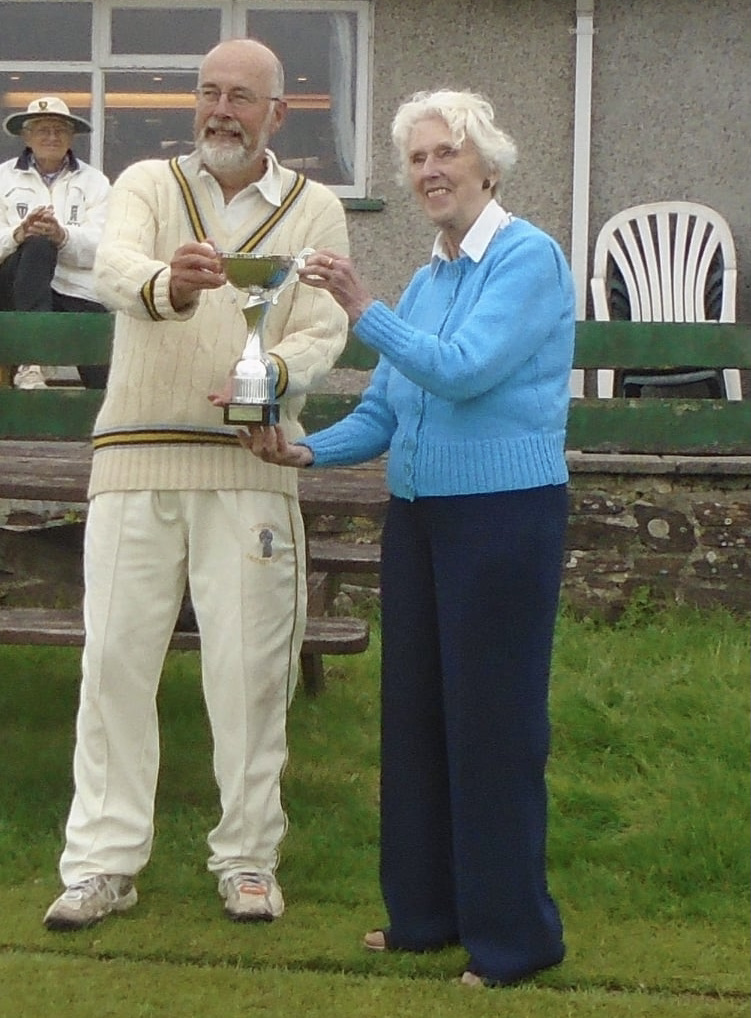 O60s National Vase Final : Victory! The O60s beat Hampshire by 19 runs at Great Tew in Oxfordshire. A first ever National title for the O50s/60s Scorecard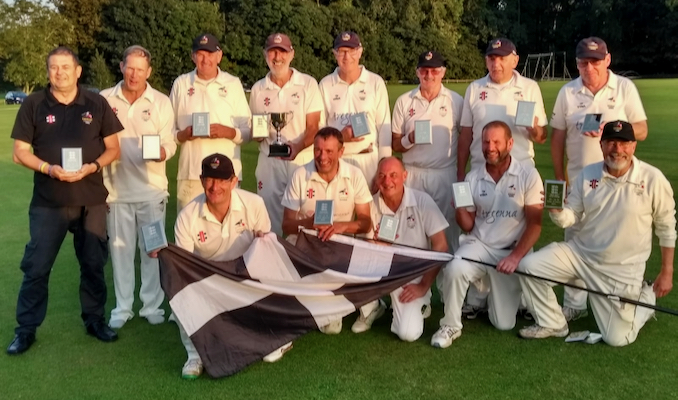 Back: Alan Hocking (scorer), Adam Widdison, Hugh Rogers, Bob Fleming (captain), Jon Nance, Paul Przybylski-Garry, Stuart Nye, Mike Rodwell
Front: Trevor Lee, Andy Myers, Kevin Gibbard, Anton Luiten, Chris Dennis (12th man and team manager)
Cornwall Over 45s Hundred Comp: The 4 team took place at Grampound Road on Sunday Sept 19th. Open to anyone 45+ the winners were the Northern Nightriders who beat the Eastern Eagles in the final. In the Plate final the Southern Sharks trumphied over the Western Warriors. The competition returns on Sunday Sept 18th so save the date!