O50/60s
Anton Luiten breaks Geoff Husband appearances record
Anton Luiten played his 109th championship game for Cornwall O50s/60s in the O50s 2nd XI match at Perranporth on June 1st surpassing the late Geoff Husband's record of 108. Geoff played 88 games for the O50s and 20 games for the O60s. Anton has played 55 matches for the O50s 1st XI, 29 for the O50s 2nd XI and 25 for the O60s 1st XI since he made his debut on June 6th v Hampshire at Truro - in which he top scored with 73 before being run out. Photo shows O50s 2nd XI captain Johnny Smeaden congratulating Anton.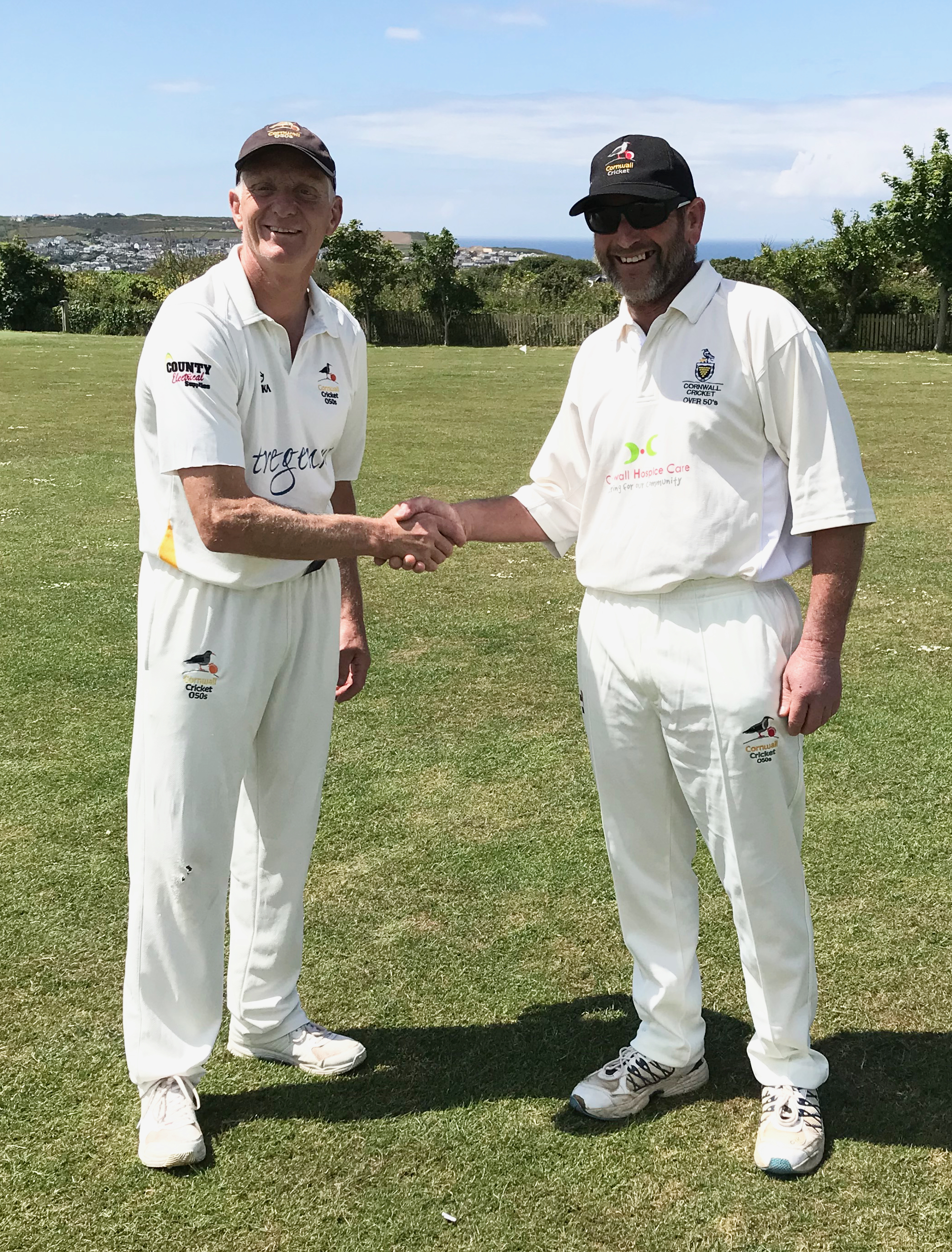 Jon and Anton in England Trials
Congratulations to Jon Nance and Anton Luiten who have been called up for England trials in June. Between them they have represented Cornwall at O50/60 level almost 200 times. Enjoy the matches guys and good luck!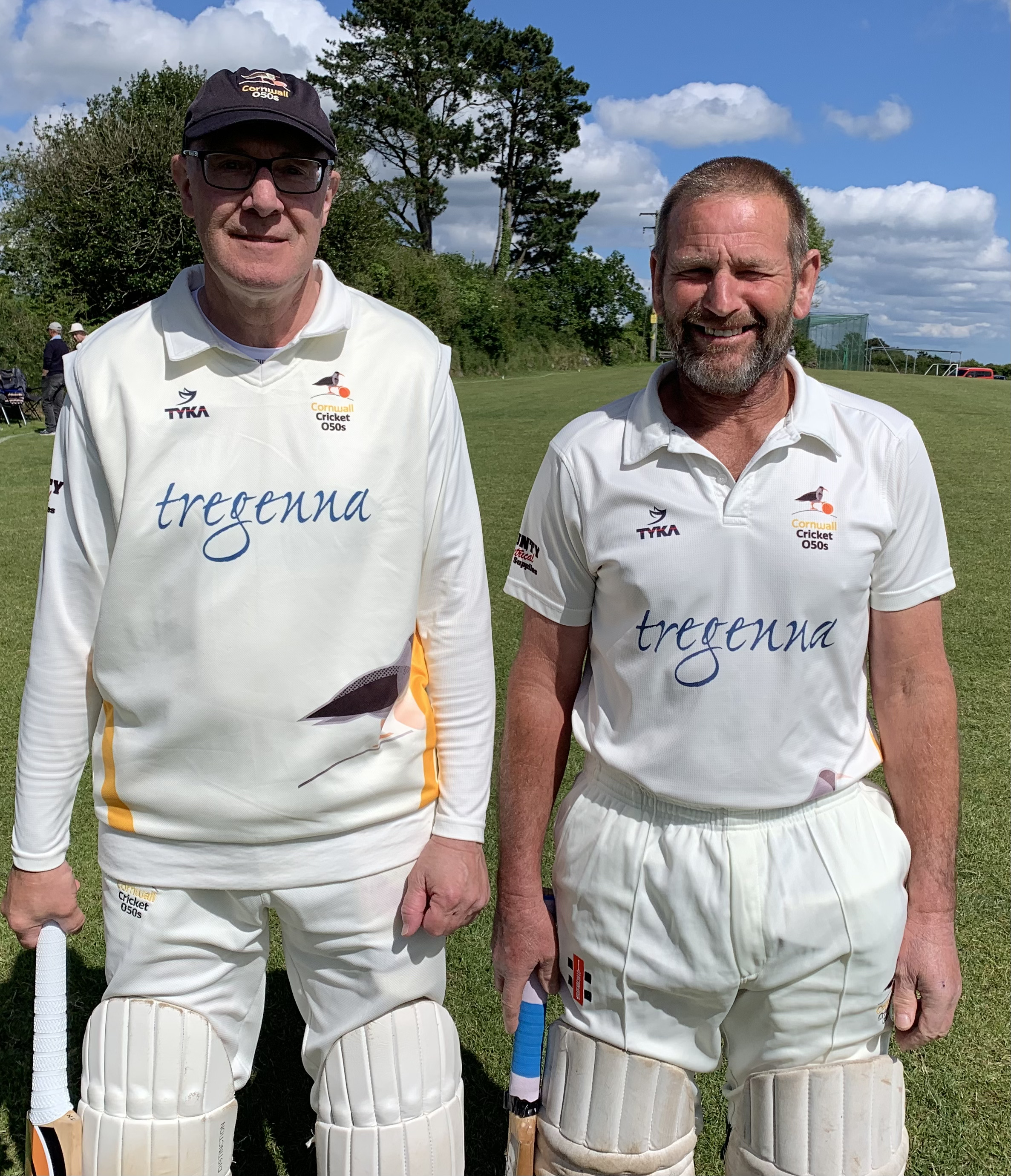 49+ and keen to play county cricket?
Then get in touch!
We run 4 championship teams and a friendly team
Our 50+ 1st XI team represents Cornwall in a national competition which features the very best O50s players across England and Wales including several ex-county pros and internationals. Most matches are usually played on Wednesdays. More info here
Our 50+ 2nd XI team takes part in an equally competitive 2nd XI championship. (formerly known as the Southern Counties or SCC). Matches will be played on Wednesdays in 2022. We can play two 49 year old 'youngsters' in any match. More info here.
For 2022 we will have a 1st and 2nd XI O60s team. Both will play in the National Over 60s championship enjoying matches virtually every Tuesday from the beginning of May. We can play one 59 year old 'youngster' in any championship match. More info here 1st XI 2nd XI
The friendlies team run by Paul Higgins enjoys a full range of fixtures against a variety of teams with a real mix of dates and formats – including matches that can end in draws! Click here for the Friendlies team page
If you've reached the stage of your cricket career where you need a new challenge in a competitive but fun environment and you have the flexibility to play midweek then the O50s / 60s is the place for you. Follow this link to our contacts page - which details team captains, managers etc
Your best cricketing years could still be ahead of you!
Check the individual team pages in the menu for results, fixtures, stats, photos etc....
2022 Membership:
To be picked for any of our teams in 2022 you need to pay a £20 membership fee which goes towards our overheads and ongoing expenses.
Please pay on line: 20-45-45 43423425 – in the reference please list who you are! The account name is : Cornwall County Cricket Club Over 50s
You can buy O50/60s match and training kit here Just make sure you tick the relevant filters (O50s or O60s - not Mens Team) on the left hand side to get to the right gear – anything with Rick Stein or any other sponsor logo on it is not ours! There is no obligation for you to buy team clothing.
2022 Fees and Expenses - These were agreed at the AGM and are as attached

O50:60s Fees & Expenses 2022.pdf 2

Defibrillators:
We're all aware of how vital a defibrillator can be in saving a life.
With that in mind the management team of the Cornwall O50s/60s have purchased four defibrillators so that each one of our four championship teams has one with them at every game for the 2022 season and beyond.
Thanks to generous personal donations and some sponsorship we made the decision to buy the four defibrillators, even though we still to need to raise around £500.
Here's how you can help us raise that final £500
Firstly you could make a personal, anonymous if you wish, donation towards the funds – everything adds up so whether you give £10, £20, £50 or a £100 it all really matters. To make your donation simply transfer the money to the 050s/060s account (details below) and in the reference box put: DEFIB
Secondly you could ask people that you know, particularly those in business, to support the fundraising through sponsorship. We would be looking for £50 and upwards from businesses and we will acknowledge each company on our sponsors page. Please ask them to donate directly via the bank account, again using the reference: DEFIB. If any of them need some sort of receipt we will be able to supply that.
None of us know when we might need the services of one of these machines. We hope they are never needed but I'm sure you'll agree knowing that they are there just in case they are needed provides great comfort.
So please do whatever you can to help us achieve this fundraising goal.
O50/60s Bank Account Details:
Account Name: Cornwall County Cricket Club Over 50s
Bank : Barclays
Sort Code: 20-45-45
Account Number: 43423425
Match pic from O50s West v East match on Sunday May 8th at Perranporth CC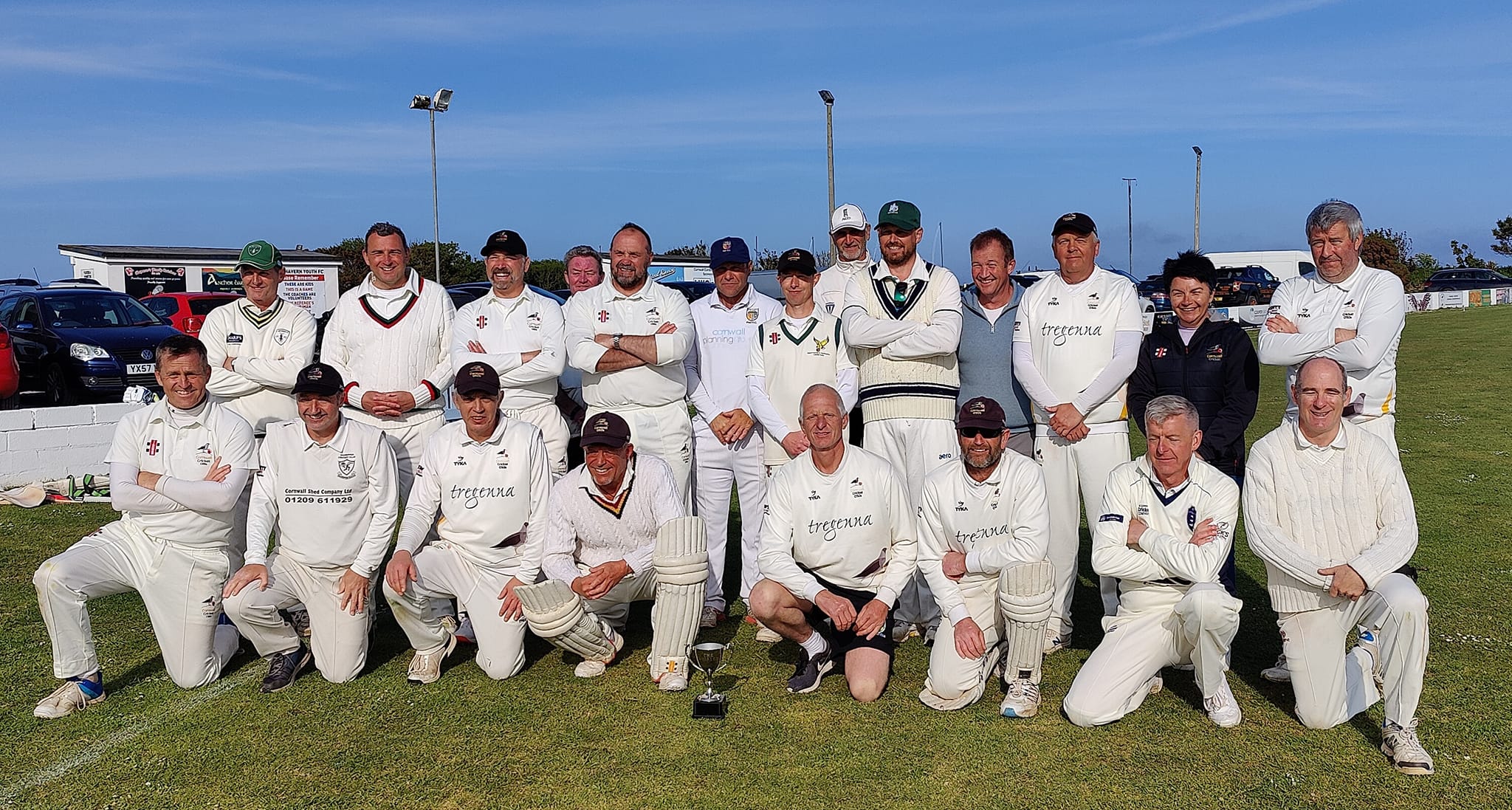 AGM 2021: This took place on Monday November 8th at 7pm at Perranporth Golf Club. Sean Hooper and John Smeaden were elected as captains of the O50s 1st and 2nd XI's. Stuart Ellis and Paul Dawkins were elected as captain and manager of the O60s 2nd XI which debuts in 2022. Mike Kent, Anton Luiten and Mark Everett are the new Sponsorship team.
Full details here:

O50:60s AGM 2021 Minutes .pdf
O45s Hundred Tournament
Following the highly successful debut of this tournament big day out in 2021 we are back in 2022.
Sunday September 4th at Grampound Road CC
Keep an eye on the Hundred pages on this website for details of how to get involved as a player, umpire, scorer, commentator,helper etc...
2021 Awards as presented at the end of season dinner held at Perranporth Golf Club:
Geoff Husband Memorial Trophy for 2021 - Chris Dennis
O50s 2nd XI : Players Player for 2021 - Simon Hamilton
O50s 2nd XI : Captains Player for 2021 - Carl Bicknell
O50s 1st XI : Players Player for 2021 - Dave Lockett
O50s 1st XI : Captains Player for 2021 - Simon Johnson
O60s: Players Player for 2021 - Anton Luiten
O60s: Captains Player for 2021 - Andy Myers
O60s Champagne Moment for 2021 - Hugh Rogers
In addition landmark appearance awards were presented to:
Anton Luiten - 100 matches across O50s/60s
Jim McKenna - 50 matches O50s 1st XI
Jon Nance - 50 matches O50s 1st XI
Trevor Lee - 50 matches O50s 1st XI
Geoff Husband Memorial Match: Despite indifferent weather a Gunnislake XI played a Cornwall O50s/60s XI at Callington on Sunday September 26th. During the tea interval Pauline Husband presented the Geoff Husband Memorial Trophy to its first recipient O60s team manager Chris Dennis.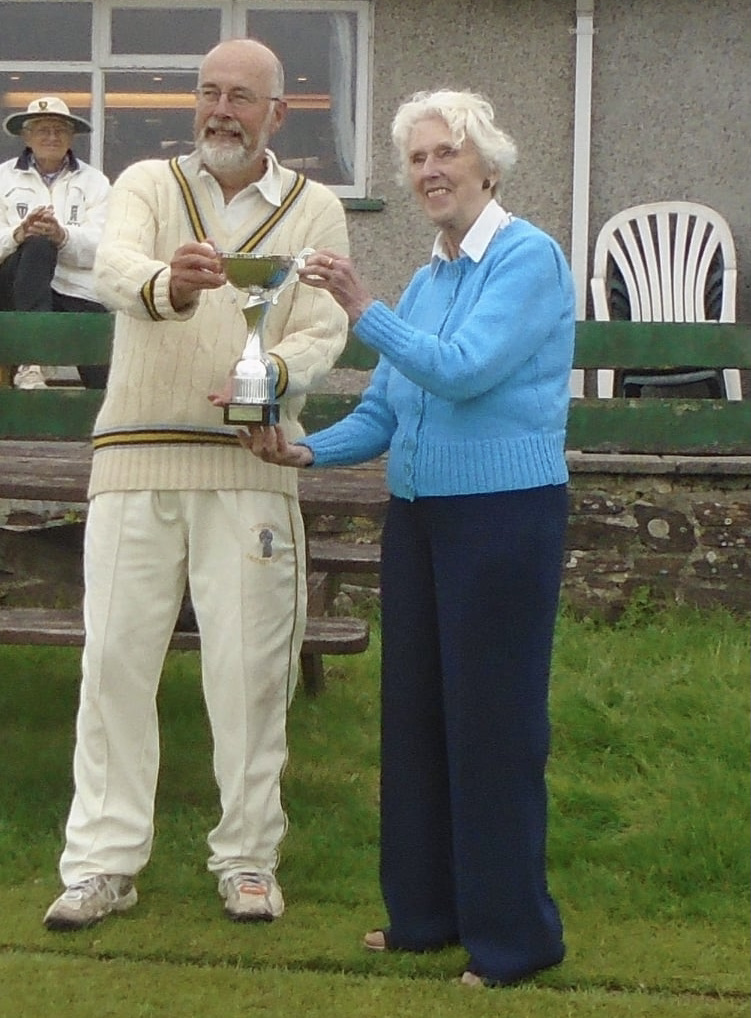 O60s National Vase Final : Victory! The O60s beat Hampshire by 19 runs at Great Tew in Oxfordshire. A first ever National title for the O50s/60s Scorecard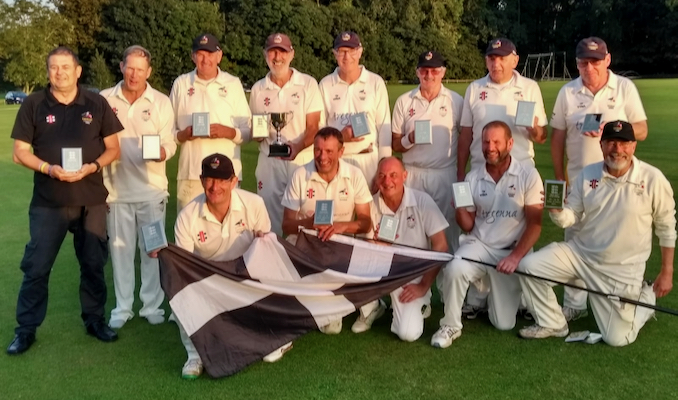 Back: Alan Hocking (scorer), Adam Widdison, Hugh Rogers, Bob Fleming (captain), Jon Nance, Paul Przybylski-Garry, Stuart Nye, Mike Rodwell
Front: Trevor Lee, Andy Myers, Kevin Gibbard, Anton Luiten, Chris Dennis (12th man and team manager)
Cornwall Over 45s Hundred Comp: The 4 team took place at Grampound Road on Sunday Sept 19th. Open to anyone 45+ the winners were the Northern Nightriders who beat the Eastern Eagles in the final. In the Plate final the Southern Sharks trumphied over the Western Warriors. The competition returns on Sunday Sept 18th so save the date!

Championship Teams 2021 : The O60s team won the final of the O60s Vase. The ECB team season ended with defeat in Wales in the round of 16 in the ECB 50+ comp. and the SCC team season finished in the semi-final of SCC Plate comp away to Middlesex.
Below is the Cornwall O60s team that beat Durham in the Vase quarter final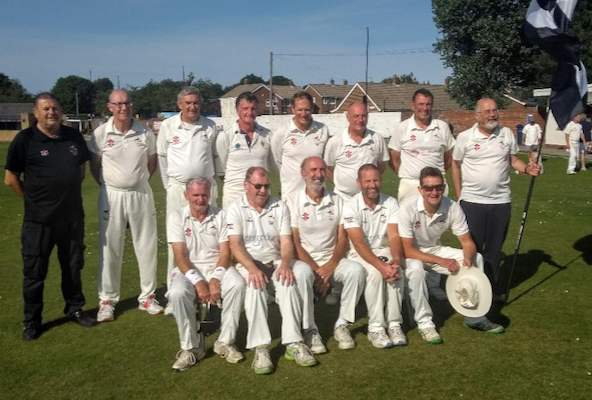 Back row: Alan Hocking (scorer), Jon Nance, Hugh Rogers, Mike Jelbert, Kevin Gibbard, Andy Myers, Chris Dennis (team manager)
Front row: Paul Przybylski-Garry, Mike Rodwell, Bob Fleming (captain), Anton Luiten, Trevor Lee
Links to the scorecards of our 2021 matches:
O60s v Hampshire - Sept 21st - Final of the O60s Vase
O60s v Worcestershire A - Sept 7th - semi-final of the O60s Vase
O60s 2nd XI Friendly v Somerset A - Sept 2nd - first ever game for O60s 2nd XI which will play in the National 2nd XI championship in 2022
O60s v Durham A - Aug 24th - quarter-final of the O60s Vase 50 for Jon Nance
SCC v Middlesex A - Aug 19th - semi-final of the SCC Plate
O60s v Staffordshire A - Aug 10th - round of 16 in the national knockout Vase - 50 for Bob Fleming 50 for Hugh Rogers
ECB v Wales A - Aug 8th - round of 16 in the national knockouts
ECB v Somerset H - July 28th - a win in a must win game
O60s v Gloucestershire A - July 27th - 100 for Anton Luiten - his 8th for Cornwall 50s/60s - here's the moment it happened
ECB v Dorset A - July 22nd - another tie! - 50th ECB cap for Jon Nance and a return to the side for Ian Bishop
O60s v Wales - H - July 20th - Stuart Nye 4-32 - best ever all time bowling figures for the O60s
O50s SCC v Hampshire A - July 15th
O50s SCC v Somerset A - July 8th
O60s v Somerset H - June 29th - a win over the league leaders - debuts for Jon Nance and Hugh Rogers
O50s SCC v Hampshire H - June 24th
O50s ECB v Hampshire H - June 23rd - a tie! - Watch as Jim McKenna just misses out on a 100 on his 50th 'cap'
O50s SCC v Dorset A - June 17th
O60s v Devon A - June 15th - O60s Team Manager Chris Dennis meets Gerald Parsons - Cornwall Minor County skipper from Gillette Cup match v Glamorgan at Truro in April 1970
O50s SCC v Devon H - June 10th
O60s v Gloucestershire H - June 8th - a first win for the O60s since 2010!
O50s SCC v Somerset H - June 3rd
O50s ECB v Devon A - June 2nd - finally a game for the ECB side
O60s v Wales A - June 1st
O60s v Worcestershire H - May 25th
O60s v Wiltshire H - May 18th
O60s v Somerset A - May 11th
O50s SCC v Devon A - May 5th
O60s v Devon H - April 27th - we're up and running in 2021