Penzance crowned County Champions 1921 & 2021
Some things never change as they say and that can be claimed at Penzance Cricket Club.
The history of the club dates back to 1829 with cricket played at its St Clare home since 1870.
Last Saturday they were crowned the Cornwall Premier League champions for 2021, retaining the trophy won in 2019.
Go back exactly 100 years and it was the same story.
Up until 1989 the County title was decided by an East v West Play-Off.
In 1921 the play-off match was between Penzance (western section winners) and Liskeard (eastern section winners}.
Scores as follows:-
Penzance 105 S Rust 27, W. S Boase 16, J Rogers 11; Major Fox 3 – 11, J Harris 3 – 24, E Palmer 3 – 51
Liskeard 81 G. H. I Bickford 21, J Harris 20, T Lang 16; F. J Whiting 5 – 38, J Wheeler 3 -21
The feat was repeated in 1922 and the photograph below, which would be virtually the same as in the previous season, shows the title winning team of 1922. The pavilion was then where the score box is now approximately.
Frank Whiting, is in the back row, third from the right in the photograph. He went on to take 888 wickets for Cornwall, by far the highest wicket taker for the County.
Thanks to Brian Richards MBE - Penzance CC President & Historian.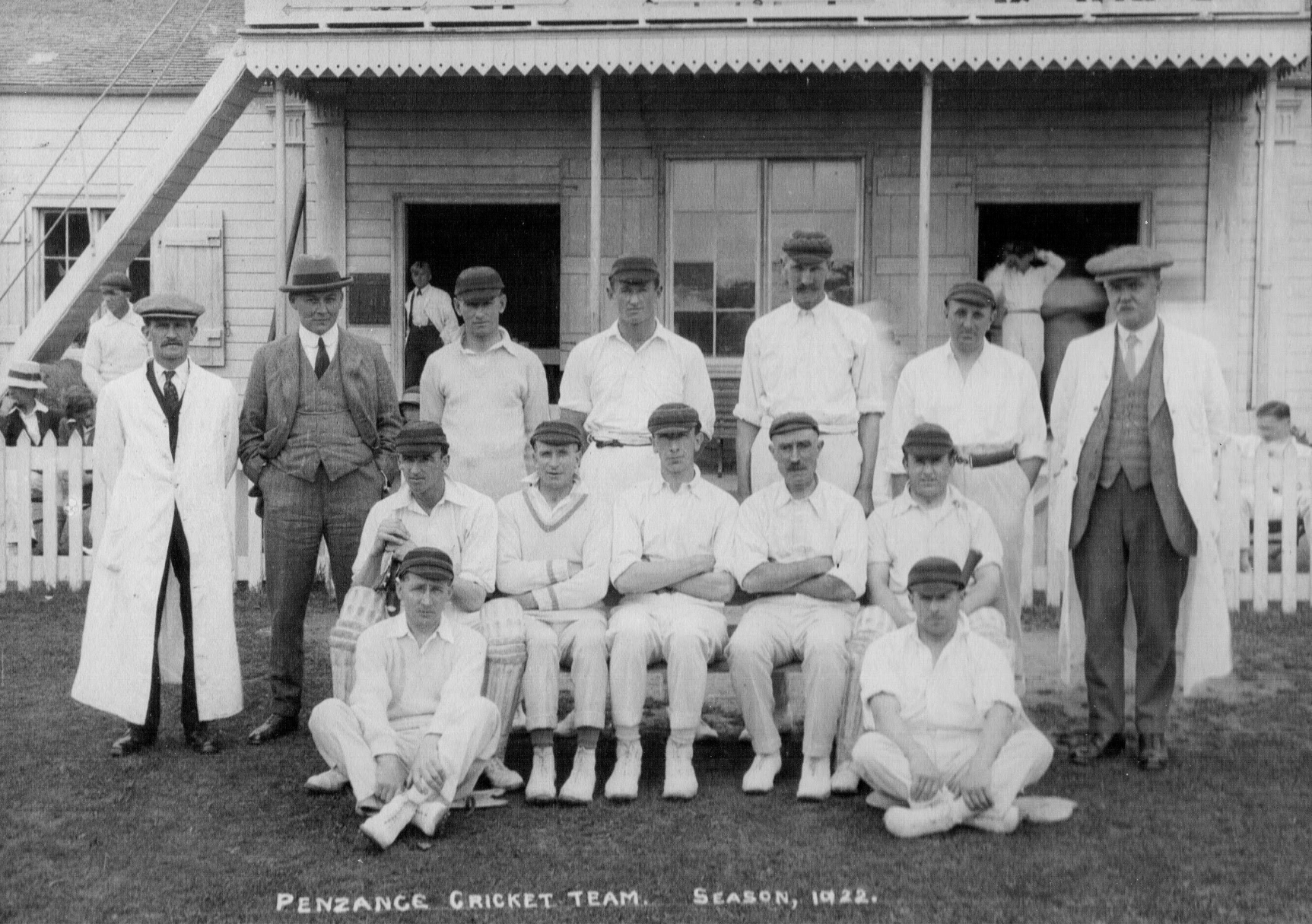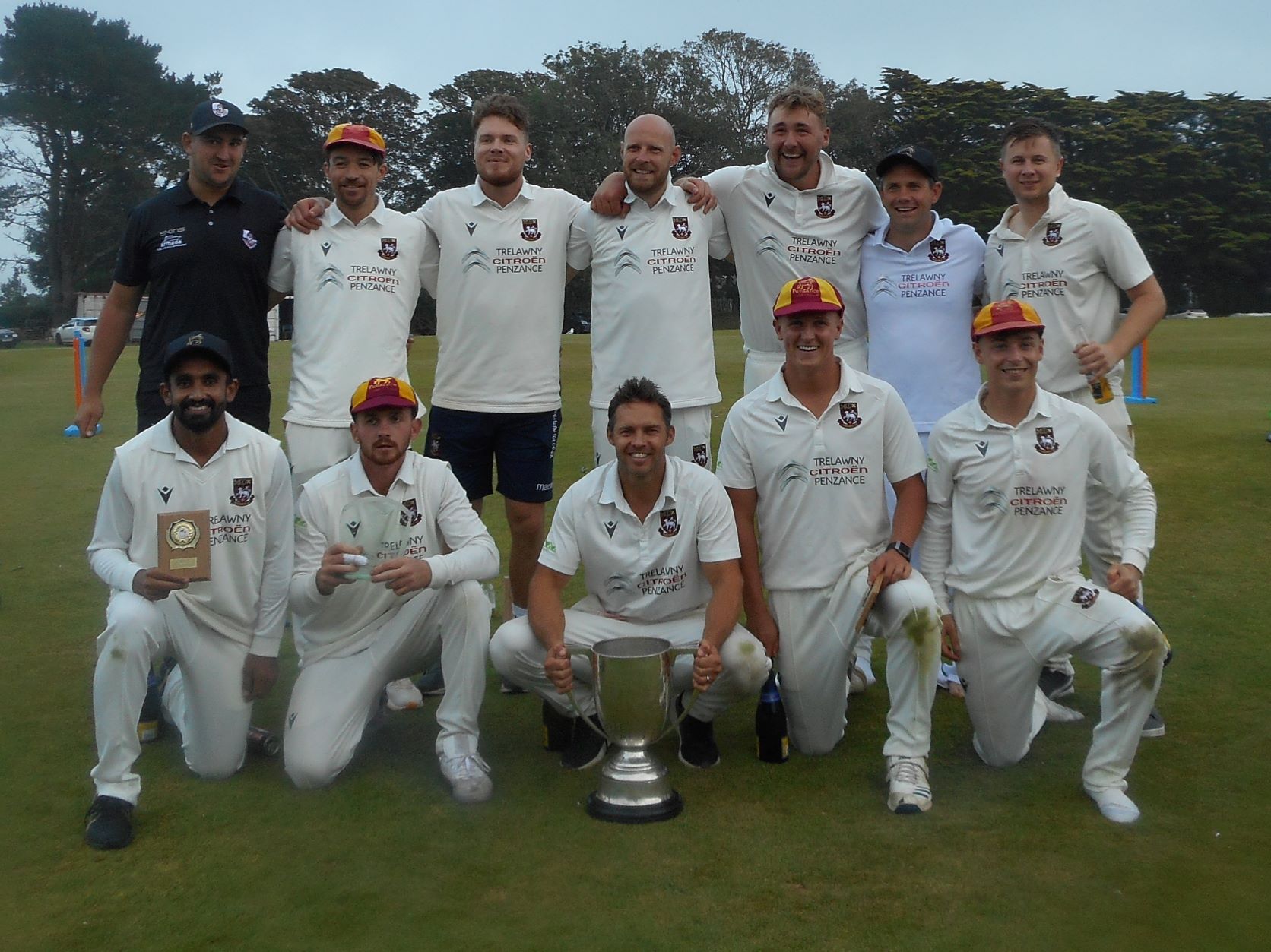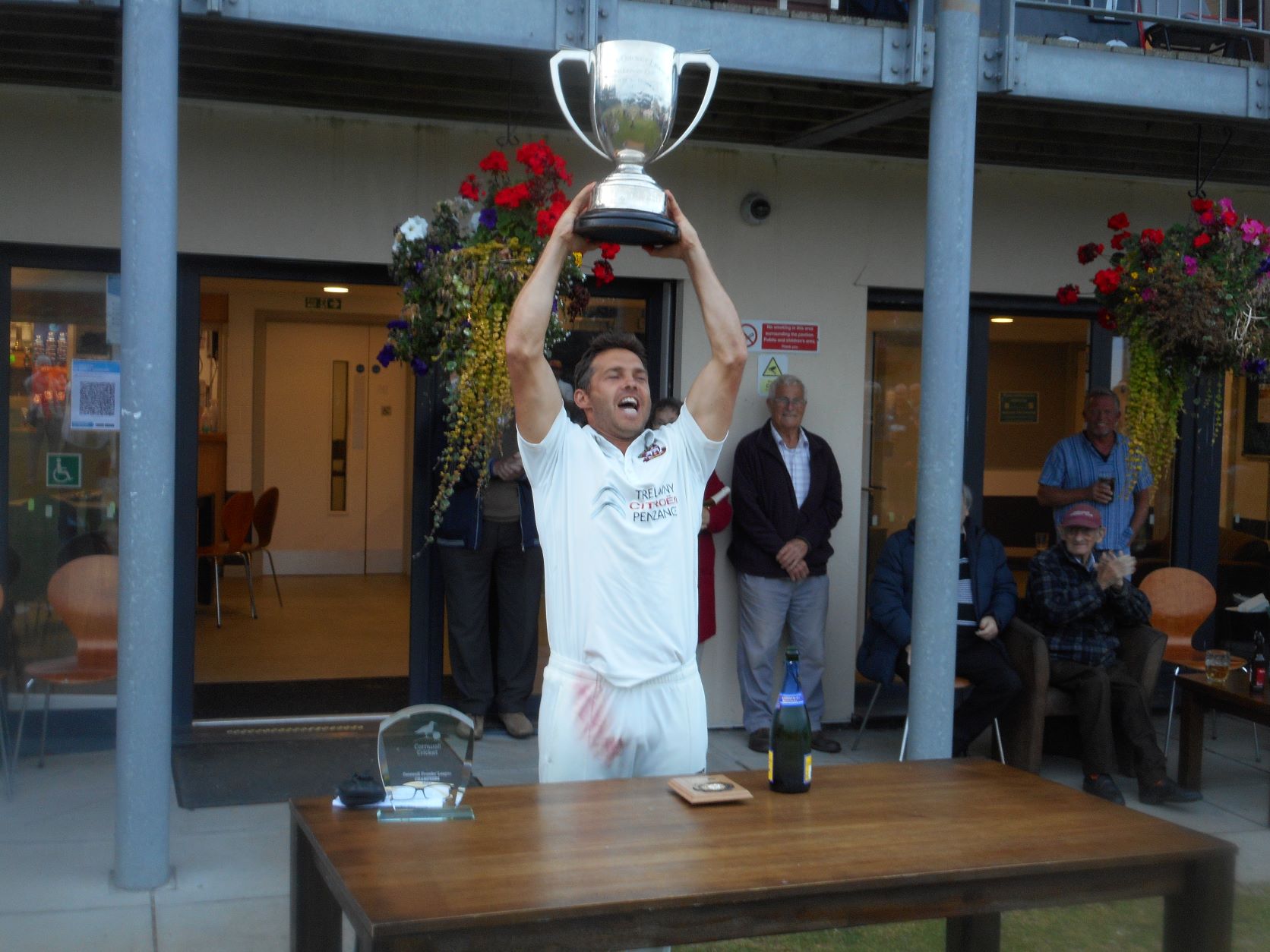 Cornwall Cricket League County Champions

League formed 1905 - No Comps 1915-19, 1939-45, 2020

20 Clubs

104 Years

Last

Successive Titles

Penzance

24

2021

3 - 1920-22, 1950-52 & 1958-60

Camborne

17

1 share

1967

8 - 1927-34 & 4 - 1961-64

Truro

13

1 share

2017

3 - 1970-72

St Just

11

2016

6 - 2004-09

Falmouth

6

1992

2 - 1986-87 & 91-92

Helston

4

1924

2 - 1905-06

Troon

4

1995

Werrington

4

2018

2 - 2012-13

Gorran

3

1953

Wadebridge

3

1 share

1968

St Austell

3

1994

2 - 1993-94

Lanhydrock

2

1 share

1914

Redruth

2

1946

Callington

2

1985

St Gluvias

2

1989

St Buryan

2

2000

2 - 1999-2000

St Blazey

1

1955

Roche

1

1982

Newquay

1

2003

Paul

1

2010
1905
Helston
1970
Truro
1906
Helston
1971
Truro
1907
Camborne
1972
Truro
1908
Helston
1973
Penzance
1909
Penzance
1974
Truro
1910
Penzance
1975
Penzance
1911
Lanhydrock
1976
Callington
1912
Penzance
1977
Penzance
1913
Penzance
1978
St Austell
1914
Camborne & L'hydrock - War
1979
Troon awarded Callington unavailable
1920
Penzance
1980
Penzance
1921
Penzance
1981
Troon
1922
Penzance
1982
Roche
1923
Camborne
1983
Falmouth
1924
Helston
1984
St Gluvias
1925
Redruth
1985
Callington
1926
St Just
1986
Falmouth
1927
Camborne
1987
Falmouth
1928
Camborne
1988
Truro
1929
Camborne
1989
St Gluvias
1930
Camborne
1990
St Just
1931
Camborne
1991
Falmouth
1932
Camborne
1992
Falmouth
1933
Camborne
1993
St Austell
1934
Camborne
1994
St Austell
1935
Penzance
1995
Troon
1936
Falmouth
1996
Truro
1937
Gorran
1997
Truro
1938
Penzance
1998
St Just
1946
Redruth
1999
St Buryan
1947
Troon
2000
St Buryan
1948
Gorran
2001
Truro
1949
Truro
2002
Truro
1950
Penzance
2003
Newquay
1951
Penzance
2004
St Just
1952
Penzance
2005
St Just
1953
Gorran
2006
St Just
1954
Penzance
2007
St Just
1955
St. Blazey
2008
St Just
1956
Penzance
2009
St Just
1957
Camborne
2010
Paul
1958
Penzance
2011
Truro
1959
Penzance
2012
Werrington
1960
Penzance
2013
Werrington
1961
Camborne
2014
St Just
1962
Camborne
2015
Werrington
1963
Camborne
2016
St Just
1964
Camborne
2017
Truro
1965
Truro & Wadebridge Aband
2018
Werrington
1966
Wadebridge
2019
Penzance
1967
Camborne
2021
Penzance
1968
Wadebridge
1969
Penzance