Bursary Programmes - 2023
Cornwall Cricket are very excited to announce a free cricket summer programme called All Stars and Dynamos Intros.
All Stars (for 5-8 yr olds) and Dynamos Intros (for 8-11 year olds) are specifically designed for disadvantaged children who wouldn't necessarily have this opportunity if it were a 'paid-for' offer (e.g. children who qualify for Free School Meals) or those struggling with the current cost of living crisis.
Venues, programmes and booking details are below:
Penzance Cricket Club - from 6th June (FULLY BOOKED)
Direct Booking Link: https://ecb.clubspark.uk/Dynamos/BookCourse/9cc8a467-2196-4aa7-b66d-0d32219c6d1b
Promotion Code: 9F9V9F (enter at checkout to for £0 cost)
Treloweth School - from 12th June (FULLY BOOKED)
Direct Booking Link: https://ecb.clubspark.uk/AllStars/BookCourse/0f89e8ce-9d77-45a8-8f75-9390ddb6a238
Promotion Code: J4UML6 (enter at checkout to for £0 cost)
Rosemellin School - from 12th June (FULLY BOOKED)
Direct Booking Link: https://ecb.clubspark.uk/Dynamos/BookCourse/dcb5334c-8c5a-4553-ad29-d971414a6616
Promotion Code: LVAXTH (enter at checkout to for £0 cost)
St Austell Cricket Club - from 3rd July
Direct Booking Link: https://ecb.clubspark.uk/Dynamos/BookCourse/dab9c53d-f4bc-408b-a97c-cabd47da56f3
Promotion Code: TXYCZZ (enter at checkout to for £0 cost)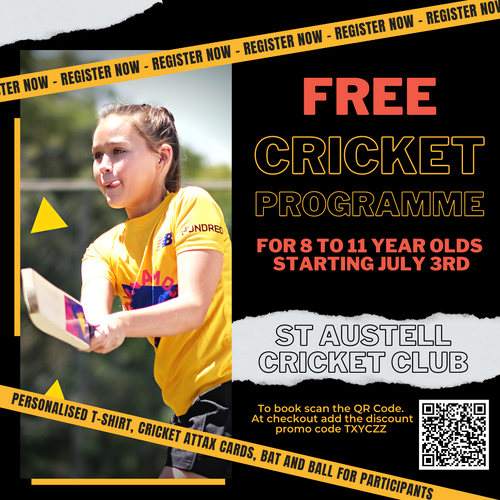 Liskeard Cricket Club - from 13th July
Direct Booking Link: https://ecb.clubspark.uk/AllStars/BookCourse/750f7273-59bf-4d9f-a74e-698db2c7a793
Promotion Code: XWUBUA (enter at checkout to for £0 cost)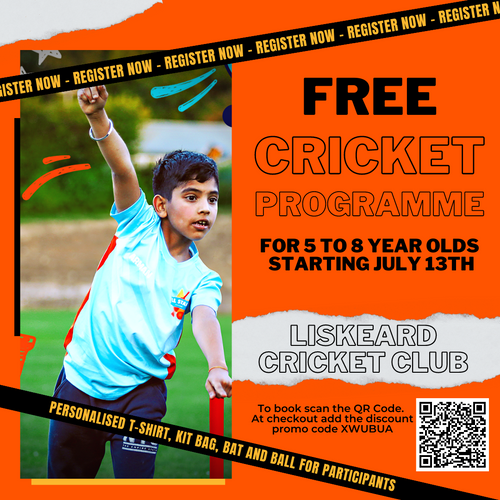 Falmouth Cricket Club - from 18th July
Direct Booking Link: https://ecb.clubspark.uk/AllStars/BookCourse/dad06cb6-b5eb-46b4-b140-a11f44580a75
Promotion Code: U9VC6M (enter at checkout to for £0 cost)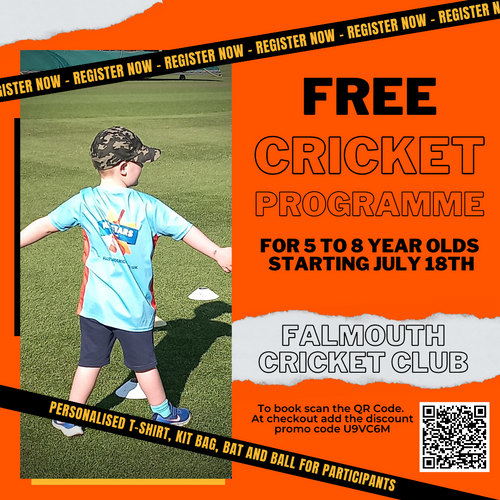 Wadebridge Cricket Club - from 27th July
Direct Booking Link: https://ecb.clubspark.uk/Dynamos/Course/03c0ad9c-0c95-431d-b9c5-0139740b9ec3
Promotion Code: X7X89T (enter at checkout to for £0 cost)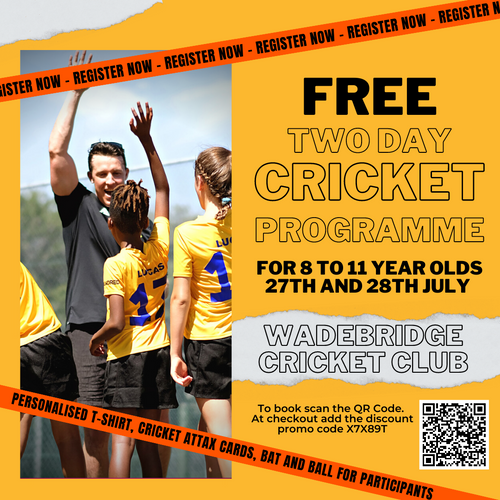 Callington Cricket Club - from 31st July
Direct Booking Link: https://ecb.clubspark.uk/Dynamos/BookCourse/15715e06-e746-4a65-9035-e670c31ae753
Promotion Code: SVVHRB (enter at checkout to for £0 cost)