Vacancies
Club Development Officer - Closed
Salary: Band 2, £20,461 - £23,728 or Band 3, £23, 150 - £26, 847 Depending on experience with club and school development
Hours: 37.5 hours a week
Contract: Two year fixed term
Are you passionate about cricket and club development? Do you want to inspire people to get involved and help to make cricket more accessible within Cornwall? We are looking for a Club Development Officer to drive participation in the game from schools into the club network, grow the number of volunteers within the game and create opportunities to play cricket across Cornwall in a safe environment, specifically to drive areas of growth: -
In All Stars Cricket and Dynamos Cricket

Deliver in the primary and secondary school coaching programmes that link into club teams, West Cornwall.

Work with cricket clubs to set up junior sections in the National Programmes and U11, U13 and U15 age groups

Grow the workforce and volunteers required to sustain the club game

Further drive the success of the junior competition offer (indoor and outdoor) broadening the number of teams involved

Work with Cornwall Youth Cricket committee.
We are looking to recruit an enthusiastic individual with:
Strong influencing skills and an ability to work with volunteers.

A passion for engaging volunteers and juniors in sport, with a passion for cricket.

Strong project management, partnership and interpersonal skills in order to work with multiple partners.

A track record in sport development where you have gained a good reputation for delivery.
For more information please see the complete job description
To download a writable Application for please download here
To submit applications please send them to: Joe Skinner, Managing Director
Friday 22nd September 2023, 5:00pm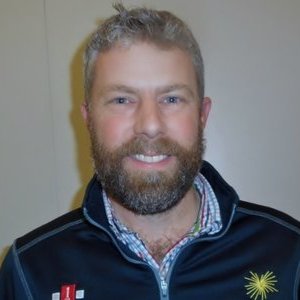 Joe Skinner
Managing Director
NED Marketing, Communications and Fundraising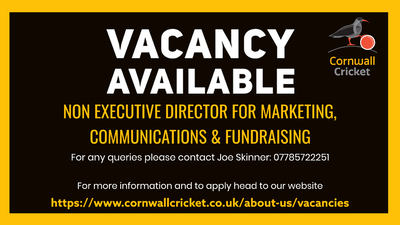 Do you have the knowledge and skills to be part of Cornwall Cricket Senior Leadership team and become a NED Director with a portfolio for Marketing, Communications and Fundraising?
Would you like to lead the strategy for Cornwall Cricket in Marketing, Communications and Fundraising, supporting the professional staff and member organisations in delivering the strategy?
If so then this role would for you!
Position Responsibilities
To Chair the Fundraising Communications and Marketing committee to the Board and be responsible for setting the Agenda on a bi-monthly basis in accordance with the CPA Strategy and Risk and Opportunities for CCB.

The ability to support the organisation to build a long-term plan for the development of the organisation's brand

To Lead and support the implementation of Cornwall Cricket Board's fundraising marketing and communications strategy.

To work with external partners where appropriate to develop opportunities.

To have a leading role in overseeing systems and methods for fundraising and communication to raise our profile within Cornwall.

To support the Cornwall Cricket Professional Staff responsible for delivering the strategy.

Managing Director

Fundraising Communications and Marketing Officer.

Support Member Organisations with their processes and programmes

To support Cornwall Cricket Youth

To support Cornwall Cricket Women & Girls'

To support Cornwall Cricket Performance
For more information please see the complete job description
to download a writable Application for please download here
Submit applications to: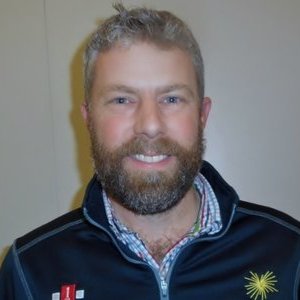 Joe Skinner
Managing Director