School Of The Month
Cornwall Cricket is delighted to announce its Chance to Shine Primary School of the Month Award scheme.
We recognise and want to celebrate the fantastic work going on in our Cornish Primary Schools!
Each month the winning school will receive a framed certificate and bag of cricket kit to show our appreciation!
We will share your success by developing a brief case study report to be posted onto our website and Cornwall Cricket's Social Media platforms - with your approval.
We will also let Chance to Shine charity know of your wonderful work www.chancetoshine.org/primary-schools perhaps leading to further sharing of good practice and recognition for your school?
What makes you a winner?
A Primary School or a teacher who in our opinion is:
Inspiring children to be excited about cricket
Staff teaching and encouraging pupils to play cricket
Staff using cricket as a medium to develop pupil's learning across the curriculum
Developing a culture of cricket in their schools including taking part in competitions (internally and externally)
Supporting pupils on their cricketing journey - transition from school to clubs
May 2021 Winner - Heamoor Community Primary School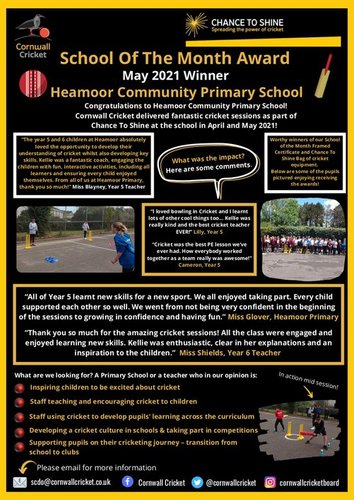 Click to view this PDF online
April 2021 Winner - Bishop Cornish C of E Primary School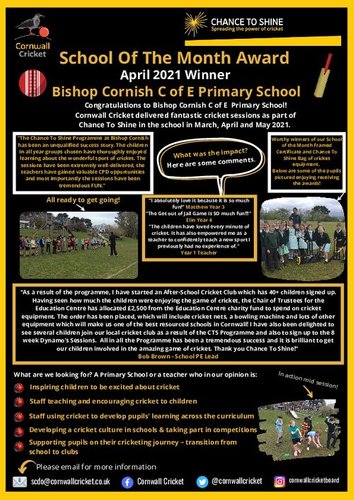 Click to view this PDF online