Cornwall Cricket League Statement- Covid 19
18 June 2021
League Statement – COVID-19
"The LMC met at very short notice early last evening and, in the first instance, established the principle that we very much want cricket to be played, wherever practical. We dismissed a suggestion that a whole division or matchday should be rescheduled or cancelled through Covid-19 concerns, on the grounds that it would probably solve nothing, and could just as easily pass the problem on to another point in the season. In any event, the great majority of potential concerns seemed to be from work or social activity in general, not from cricket.
A very small number of clubs had alerted us to the fact that they had a player, or players, who had either contracted the virus or had been instructed that they were a 'close contact' and should be isolated from others, thereby precluding their involvement in cricket. We were satisfied that these clubs were handling the matter most responsibly, ensuring that close contacts within their club were established, and asking teammates of infected individuals to undertake a virus test. Provided that enough players in their team were still eligible to play cricket, they wanted to field a team.
The LMC, along with the CCO of the Cornwall Cricket Board, agreed with this course of action. We also clarified the position regarding requests for the cancellation or rescheduling of fixtures: if a club could provide evidence that a minimum of three players from a particular team had been notified of a Covid-19 infection or an instruction to be isolated, then their request to cancel a match would be granted and, under the League's Temporary Rules, average points awarded to both teams at the end of the season. There would be no rescheduling of fixtures, and any team which simply preferred not to play in a scheduled match would be regarded as having conceded that match.
Any club, or their opponents, which has a team released from a fixture in the above manner, is reminded of their responsibility in the selection of players for their other teams under Rule 11.4.4.1, ie. all players selected in that club's lower team(s) must satisfy the 5/8 rule.
Cup & MDEL competition matches will be dealt with on an individual basis and, wherever possible, played out.
We are very happy with the way in which clubs have managed this situation so far and would like to thank you all for your continued efforts. Whilst maintaining a responsible attitude to the ECB Guidance and encouraging you to pay proper attention to the welfare of your members, we wish to support you in doing everything possible to allow cricket to continue to be played."
Mark Mitchell
Chairman, Cornwall Cricket League
The League reminds clubs of the ECB Guidance issued on 14 May which can be viewed at
https://cornwallcricket.co.uk/news/2021-05-14/ecb-messaging-update-for-clubs-leagues-14-may.html
In particular, note the guidance on Changing Rooms. They don't have to be used and if so follow the Guidance.
We fully support the information sent out by CCO Joe Skinner earlier today.
Dear Cricket Clubs
This is a message of caution and the need to remain vigilant around Covid - 19.
As you may be aware there has been a steep increase in the number of positive covid cases in Cornwall (map shown). This is occurring mostly in the younger population, those that have not been vaccinated.
This is a simple message from Cornwall Cricket to make sure you do all in your control as a club and members of your club to do the right thing.
Please make sure you communicate to your members the need to do the following:
As a club please make sure you operate both the NHS QR code and paper test and trace so you have the ability to record and communicate to all people around the game should there be a positive case. (I have already been to a number of clubs this year who are doing neither!)
If you show symptoms of covid, do not play, or train. Communicate to your team captain as soon as possible to express apologies and get a PCR test done. A sniffle or a cough can be a sign of Covid, better to be safe than sorry.
Make sure your players and guests register on the QR code and test and trace paperwork.
Make sure you maintain good hygiene practices whilst playing and around the edges of the game (patrons).
Maintain social distancing, especially when celebrating a wicket, 2m.
NO saliva or sweat on the ball.
Abide by the guidance provided on pre and during match play, sanitization, every 6 overs or 20 min as an example.
Football, a number of clubs are providing an opportunity to watch football and generate some needed income. This is fine, but please also be conscious of maintaining safety at all times. The perception of the public will link this to cricket and not football and if this causes issues then as the organiser cricket could be at fault. Maintain good practices at all times and this includes the current hospitality guidance.
I have said from the start that we do not want cricket to stop as a consequence of bad practices or becoming lazy as if all is ok, clearly not as the numbers up to the 12th of June are at 411 that was last week. We must make sure cricket remains and to do this all clubs and their members must please abide by the guidance set out by the ECB and Government.
There are hot spots in Cornwall where there are a large number of cases, in these areas please pay extra attention. You can see this from the map below. (Bude is not here about they are suppressed (according to the map)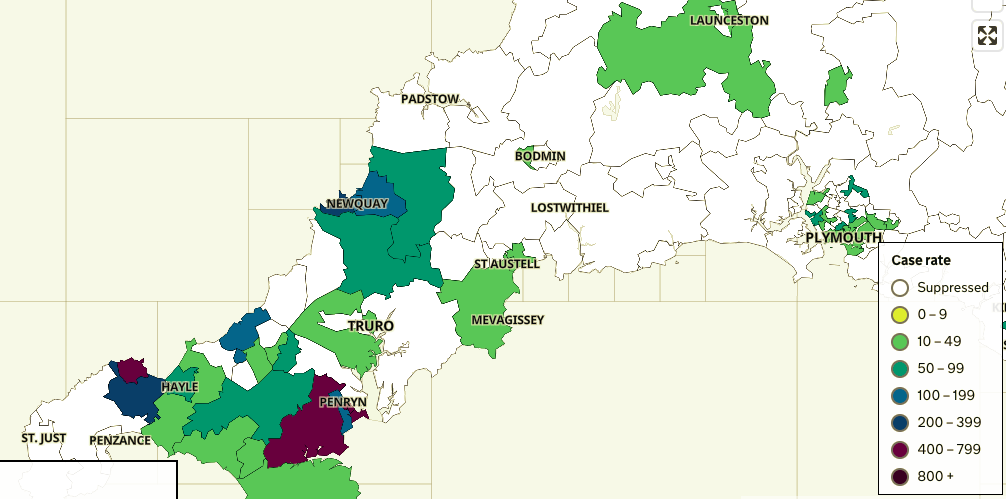 In the event of a Covid case, please use the Test and Trace to notify all those that have been in direct contact, (15 min through the day), inform them to self-isolate and get a PCR test completed. Contact Public Health England and Cornwall Council to report the case(s), then follow the government's guidance.
It is challenging times, and there is a lot placed on the club volunteers to make this happen, so a continued thank you for your efforts in making cricket as safe as it can be.
Best wishes for the weekend.
--
Joe Skinner
CCO Cornwall Cricket
Truro College
College Road
Truro
Cornwall
TR1 3XX
Tel: 07785 722251
Office: 01872 267138