Wales NC v Cornwall Championship (4)
Durant Counties Championship Western Division 2 Table Scorecard
Durant Cricket National Counties Championship Western Division 2
Abergavenny – Wales NC 352-7 (H Friend 120, BL Wadlan 102, G Pritchard 42no; EAF Whiteford 3-66, WA MacVicar 3-72) & 149-4d (BL Wadlan 56no; WA MacVicar 3-71),
Cornwall 251 (TG Sturgess 61, MM Tryfonos 48, WA MacVicar 41; G Pritchard 5-56, J Foulkes 3-57) & 145-3 (MM Tryfonos 70no, AJ Hodgson 41). (Target 251).
Match Drawn. Wales NC (12), Cornwall (9). Cornwall win the division.
Cornwall's Cricketers are celebrating after clinching the National Counties Western Division 2 Championship.
They comfortably got the draw they required against Wales NC at Abergavenny.
Cornwall had been set 251 in a minimum of 55 overs and reached 145 for 3 when the captains shook hands at the start of the final hour.
Cornwall will be promoted to Division 1 next year.
It adds to a highly successful season that saw them come within a boundary of winning the National T20 Final in May.
Cornwall went into the game knowing at least 5 bonus points and a draw would be enough to take the title.
Wiltshire & Dorset lost the second day to rain and despite some 'declaration bowling' on the final afternoon to set up a Wiltshire run chase the match was drawn.
It means following the completion of games next week Cornwall will have at least a 10 point margin of victory.
Paul Bolton NCCA
Cornwall clinched promotion to the top-flight of the Durant Cricket National Counties Championship by winning the Western Division Two title following a draw against Wales NC at Abergavenny.

Cornwall sit out this weekend's final round of matches but yesterday's nine points were enough to confirm top spot and deny Wales and both Wiltshire and Dorset – who drew at the South Wilts club in Salisbury – the opportunity to overtake them.

Wales were always in control at Abergavenny where they had a first innings lead of 101 and added 149 more before they declared with player/coach Brad Wadland following up his first innings century with a half-century.

Cornwall were happy to play for the draw which they achieved with comfort thanks to Max Tryfonos (70 not out) and Adam Hodgson (41) who added 85 for the second wicket.

Who Cornwall will replace in Western Division One has yet to be decided with only Berkshire mathematically safe going into the final round of matches.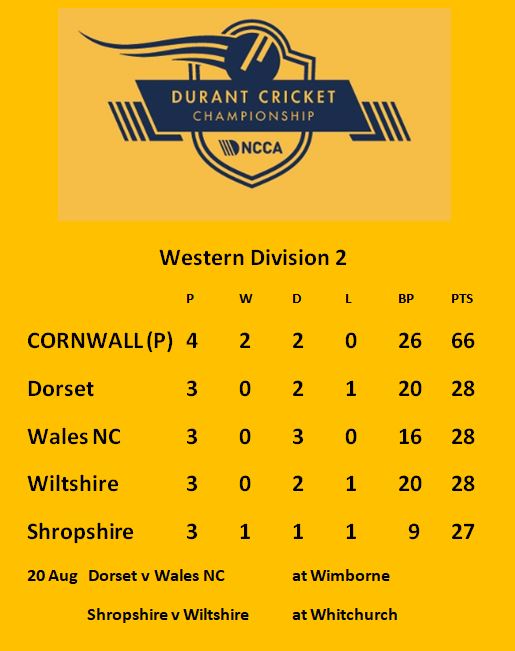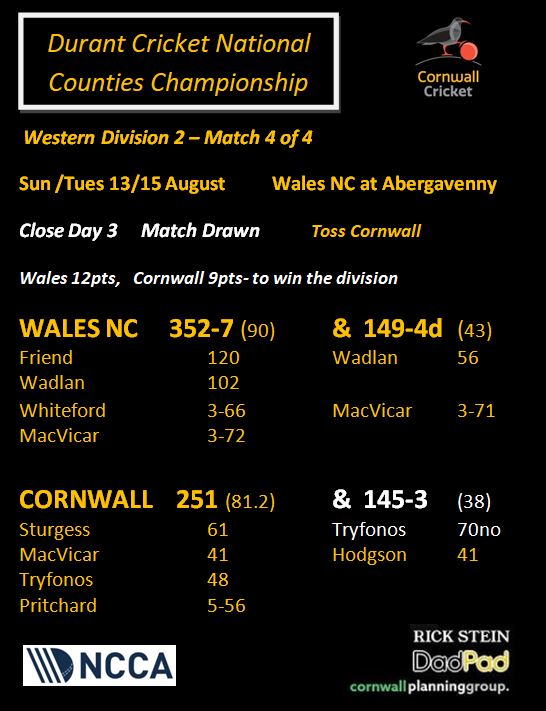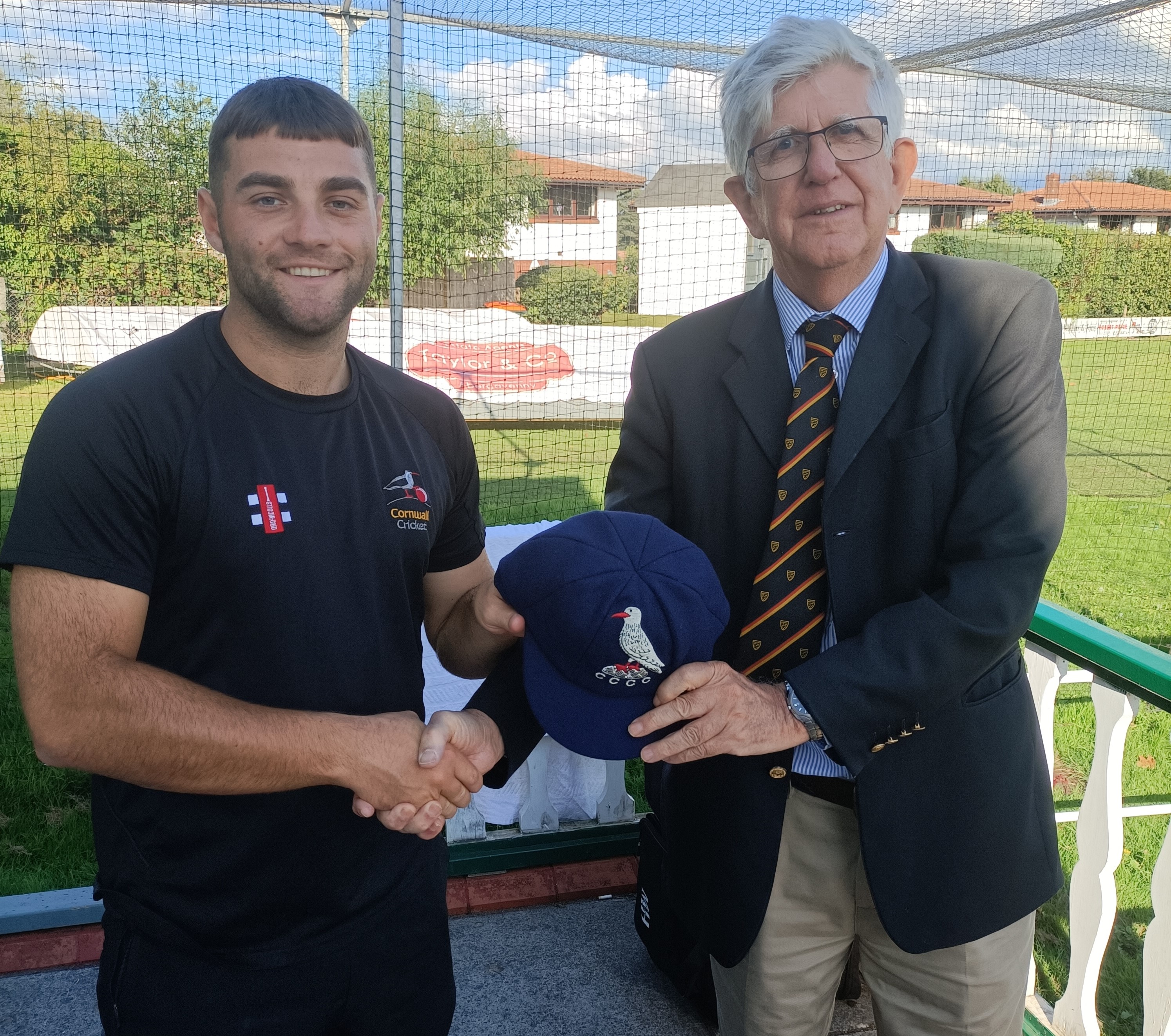 Day 1 Cornwall won the toss and elected to field
Lunch 13:20- Wales NC 110-1 (37 Friend 72no, Harrison Jones 31no
Tea 16:20 - Wales NC 235-4 (71) Wadlan 64no
Inns Closed 17:58
Close 18:43 Bad Light Cornwall 25-1 (8) Leathley 9no, Tryfonos 15no
Day 2
Delayed start to 14:45 following morning rain
Tea 17:04 Cornwall 144-5 (42) MacVicar 19no, Sturgess 0no
Close 19:30 Cornwall 246-9 (76) Ellis 3no, Lawrence 0no
Day 3
Inns Closed 10:49 Cornwall 251
Lunch 12:51 Wales NC 72-3 (26)
Inns Closed 14:42 Wales NC 149-4d
Tea 15:50 Cornwall 47-1 (13) Hodgson 19no, Tryfonos 21no
Close17:36 Cornwall 145-3 (38) Match Drawn -final hour not played.