Wales NC v Cornwall - NCCA Championship (1)



Wales NC v Cornwall Championship 11 July 2021 at Pontarddulais CC
NCCA Championship Western Division 2
Pontarddulais- Cornwall 157 (CF Gibson 56, KJ Burns 25; T Phillips 4-13. T Jones 3-35)
& 79-1 (SA Harvey 43no, OE Wesbury 25no),
Wales NC 271 (C Herring 61, T Bevan 42, T Phillips 39, G Holmes 35, M Bevans 29; TG Sturgess 3-41, BJ Twohig 3-95, CM Johnson 2-49).
Match Drawn, Wales NC (10), Cornwall (8).
Cornwall started their Championship season with a rain ruined draw against Wales National Counties at Pontarddulais. Less than a couple of hours were possible before rain washed out the opening day. A torrential downpour during the lunch interval on day two saw rain get under the covers and play was abandoned for the day. Cornwall had just been bowled out for 157 in 65 overs with Chris Gibson making 56 on debut. The third day was uninterrupted with Wales bowled out for 271 at tea. Tommy Sturgess and former Worcestershire spinner Ben Twohig took three wickets on his first appearance. Trailing by 114 runs Cornwall batted out the final session ending on 79-1 with skipper Scott Harvey 43 not out and Ollie Westbury, another former Worcestershire player, 25 not out on debut.
Day 1 Cornwall lost the toss and were put in. Play got underway on time at 11am.
Rain stopped play 12.43 - It re-commenced for just six balls after lunch. Play was abandoned for the day at 15:23
CORNWALL 68-1 (28.4) RSP at 14:02
Chris Gibson 44no
Scott Harvey 7no
Oliver Westbury 16
Day 2
CORNWALL 157 AO (64.5)
Chris Gibson 56 Tegid Phillips 9-5-13-4
Kian Burns 25 Tomas Jones 13-1-35-3
Cornwall were bowled out 9 minutes before lunch. A torrential dowpour during the the interval saw rain get under the covers and play was abandoned for the day at 14:23
Day 3
Play began on time at 10.30am
Lunch Wales NC 120-4 (44 overs) - Three wickets for Ben Twohig on debut.
Match Preview
Cornwall will have seven players making Championship debuts in their opening Division 2 clash with Wales National Counties at
Pontarddulais.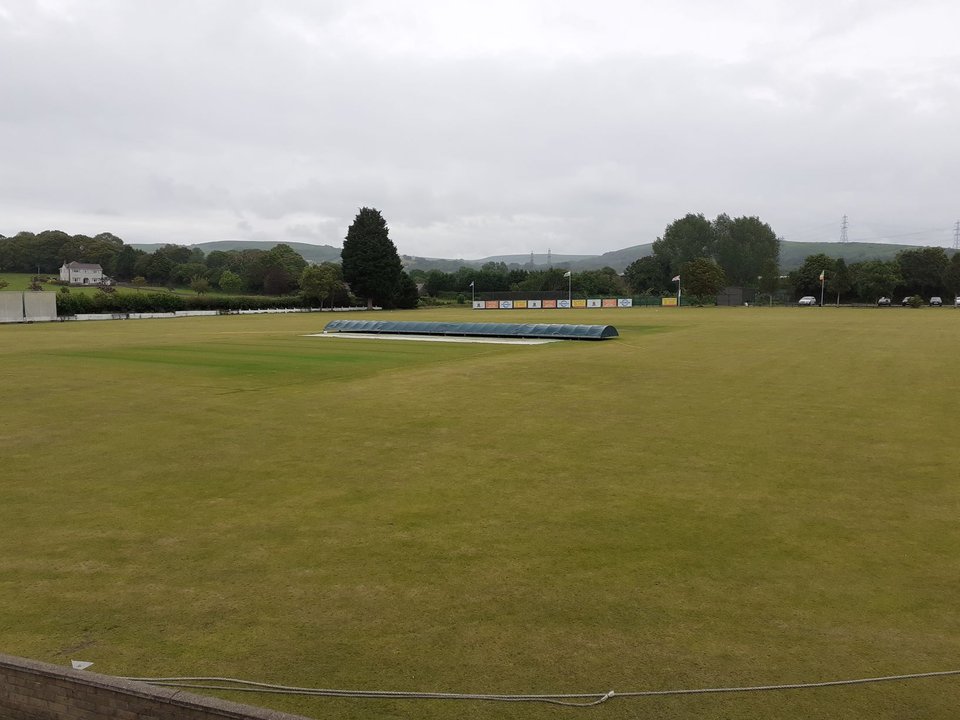 Ollie Westbury and Ben Twohig have both played first-class cricket for Worcestershire. Westbury is a 24-year-old opening batsman and Twohig a 23-year-old left-arm spinner. Camborne batsman Chris Gibson (22) also receives a first call up. Brought up in Praze-an-Beeble, the same Cornish village as Lewis Goldsworthy, he was a member of the Notts Academy at Trent Bridge and played for the second XI. Before returning to Camborne he has played for Swansea this year. Four others made county debuts in white-ball games this year- Kian Burns, Scott Kellow, Ben Ellis and Craig Johnson. The captain, Scott Harvey and Paul Smith both made their debuts in 2013 and have 60 championship appearances between them. All-rounders Tommy Sturgess played twice in 2018 and Ellis Whiteford featured in the famous drawn game against Berkshire at St Austell at the end of 2019.
Missing from the side that played in the previous game against Wiltshire in the NCCA Trophy are Greg Smith, Tom Wells, Christian Purchase, Dan Lello and Jonny Ludlam.
Looking forward to the game skipper Scott Harvey commented "As a squad we feel like we have played some good cricket throughout the 50 over competition and we are disappointed not to qualify. Our attention now turns to 3-day cricket where we look to put all three aspects of the game together to get a result against Wales".
It's the third time Cornwall has played at Pontarddulais, seven miles north-east of Llanelli. A 59 run win was achieved in 1996 before the famous game at the end of the 2009 season when victory would have given Cornwall a first-ever Western Division title. However, only four overs were played on the opening morning before the game was abandoned due to heavy rain.
Cornwall v Wales NC
O E Westbury
C F Gibson
S A Harvey (Capt) (wk)
B J Twohig
K J Burns
P S Smith
T G Sturgess
S P Kellow
E A F Whiteford
B A Ellis
C M Johnson
12 C J Kent
Cornwall: Scott Harvey (Capt) (wk) (Truro), Oliver Westbury (Himley), Chris Gibson (Camborne), Ben Twohig (Bishop Stortford), Kian Burns (Callington), Paul Smith (Castle Bromwich), Tommy Sturgess (Swarkestone), Scott Kellow (Falmouth), Ellis Whiteford (Redruth), Ben Ellis (St Just), Craig Johnson (Redruth). 12th Man Charlie Kent (Truro)
Wales : AW Gorvin (Capt), TR Bevan, (both St Fagans), MJ Bevans (Newport), CR Brown, OMD Kolk (both Lansdown), GC Holmes, TD Phillips (both Cardiff), CL Herring+ (Pontarddulais), AJ Norman (Mumbles),TL Jones (Bridgend),RD Edwards (Port Talbot).