Cornwall v Devon NCCA Trophy (3)



NCCA Trophy 2021
| Date | Time | Venue | Opposition | Ground | Result |
| --- | --- | --- | --- | --- | --- |
| Sun 5 Jun 2022 | 11:00 | H | Berkshire CCC | Truro | Won |
| Sun 12 Jun 2022 | 11:00 | A | Bedfordshire CCC | Southill Park Cricket Club | Lost |
| Sun 19 Jun 2022 | 12:00 | H | Hertfordshire CCC | Redruth | Won |
| Sun 26 Jun 2022 | 11:00 | A | Devon CCC | Sidmouth CC | Lost |
Cornwall v Devon NCCA Trophy Sunday 20 June 2021 at Redruth CC 11.00am
Cornwall lost their NCCA Trophy Group game against a young Devon team at Redruth by 14 runs. After Ben Ellis struck twice to reduce the visitors to 28-2 Devon recovered to make 249 for 8. Matt Golding hit a century and shared a stand of 183 for the third wicket with Matt Thompson, who contributed 80. Tom Wells took three wickets as Cornwall fought back in the last ten overs to be set a target of 250.
Christian Purchase (37) and Alex Bone (26) added 60 for Cornwall's first wicket. Wells (54) and Greg Smith (57) then put on 101 as Cornwall reached 166 before losing their third wicket. No one else got going, however, and with 47 needed off the last five overs, the task proved too much for the tail. Cornwall needs to win their final group game away to Wiltshire on 4 July to stand a chance of possible qualification for the quarter-finals on net run rate.
Devon 249-8 (MC Golding 100, MW Thompson 80; TJ Wells 3-54, BA Ellis 2-18, CM Johnson 2-43),
Cornwall 235-9 (GM Smith 57, TJ Wells 54, CBF Purchase 37, AW Bone 26; CJ Haggett 3-46, EO Leonard 3-50, JA Stephens 2-36).
Devon (2) beat Cornwall by 14 runs.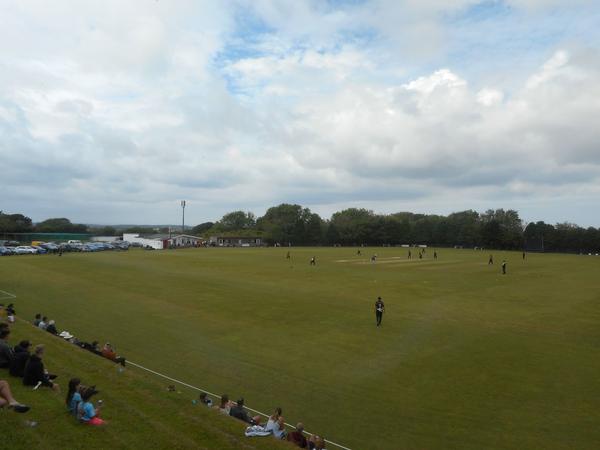 Cornwall make two changes from the team that played at Herefordshire. Paul Smith (unavailable) and Scott Kellow are replaced by Antony Angove and Dan Lello.
Captain Scott Harvey commented "We are looking forward to welcoming a strong Devon side to Redruth on Sunday after a good win at Herefordshire. The way we bowled and fielded was exceptional to bowl them out for 195 on a good wicket and small ground. Hopefully we can continue that form against Devon."
Cornwall
C B F Purchase
A W Bone
G M Smith
T J Wells
A D Angove
S A Harvey (Capt) (wk)
K J Burns
C D Lello
J P Ludlam
B A Ellis
C M Johnson
12 S P Kellow
Scorers D G Eggins & P Langsford.
Umpires: S Hollingshead & B Hampshire
Cornwall: Scott Harvey (Capt) (wk) (Truro), Christian Purchase (Penzance), Alex Bone (St Austell), Greg Smith (Penzance), Tom Wells (Penzance), Antony Angove (Penzance), Kian Burns (Callington), Dan Lello (Penzance), Jonny Ludlam (Penzance), Ben Ellis (St Just), Craig Johnson (Redruth). 12th Man Scott Kellow (Falmouth),
Devon (from) Devon Preview
1. J A Stephens (Capt)
2. M W Thompson (W/K)
3. M C Golding
4. C J Hagett
5. B A Beaumont
6. S O Read
7. E W O Middleton
8. F Sabir
9. E H Hamilton
10.E O Leonard
11. J H G Degg
12. A J Small