Cornwall v Dorset - NCCA Trophy (1)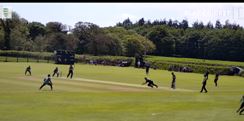 NCCA Trophy Group 2
Werrington – Cornwall 277-7 (PS Smith 94no, LP Goldsworthy 52. GM Smith 32, CD Lello 28. SA Harvey 24, TJ Wells 20; RNW Pack 4-32), Dorset 278-8 (H Carne 60, E Ellis 56no, LA Webb 55, FS Organ 36, A Eckland 24; CD Lello 3-51, LP Goldsworthy 2-46, TG Sturgess 2-53). Dorset (2) beat Cornwall by two wickets off the final ball
Cornwall's first competitive match since the championship win over Devon in September 2019 ended in disappointment with the last ball defeat against Dorset in the NCCA Trophy at Werrington on Sunday. Cornwall lost Matt Robins to the third ball of the innings but Lewis Goldsworthy (52), Greg Smith (32) and Tom Wells (20) laid a foundation. Paul Smith, returning to his former club, then hammered a county best 94 not out including 7 sixes and 7 fours off 63 balls. With skipper Scott Harvey getting 24 and Dan Lello 28 Cornwall got to 277-7 in their 50 overs. In a hectic finish, 92 came off the last seven overs.
Harry Carne (60) and Luke Webb (55) led the Dorset reply but the game was in the balance at 174-5 with 16 overs remaining. The eighth wicket fell at 261 leaving 17 needed off 14 balls. That became 11 off the last over but two boundaries including an edge proved crucial. The scores were tied off the penultimate ball and with the fielders surrounding tailender Robert Wigley, he scrambled a single off the final ball. Keeper Ed Ellis was unbeaten on 56. Dan Lello took 3-51 with two each for Goldsworthy and Tommy Sturgess.
Match preview
Cornwall's season finally gets underway on Sunday when they entertain Dorset in the NCCA Trophy.
The 50 over game at Werrington gets underway at 11 am.
It is the first game under the National Counties banner and group games follow away to Herefordshire and Wiltshire sandwiched by a home game with Devon at Redruth on 20 June.
It's change all-round with Scott Harvey the new full-time skipper and Rick Steins 'Seafood Restaurant' the new principal sponsor, supported by Cornwall Planning Group and Dadpad.
Cornwall's team includes Lewis Goldsworthy, who has been playing County Championship cricket for Somerset. Tommy Sturgess is playing in the Derbyshire League and former Werrington skipper Paul Smith for Castle Bromwich in the Warwickshire County League. He made 142 not out opening the innings in a recent game. Tom Wells has been in prolific form for Penzance. The debutant is 19-year-old batsman Kian Burns who has joined Callington this season
Cornwall: Scott Harvey (Capt) (wk) (Truro), Matt Robins (Wadebridge), Lewis Goldsworthy (Camborne), Greg Smith (Penzance), Tom Wells (Penzance), James Turpin (Wadebridge), Paul Smith (Castle Bromwich), Tommy Sturgess (Swarkestone), Dan Lello (Penzance), Kian Burns (Callington), Tom Dinnis (Penzance). 12th Man Charlie Kent (Truro).
Dorset: Luke Webb (Capt), Ollie Soames, Felix Organ, Harry Came, Greg Willows, Alex Eckland, Ed Ellis (wk), Robert Pack, Josh Digby, Robert Wigley, Ben Fletcher
Umpires: B Peverall & J Wheeler.
Scorers D Eggins & Mrs C Drew.